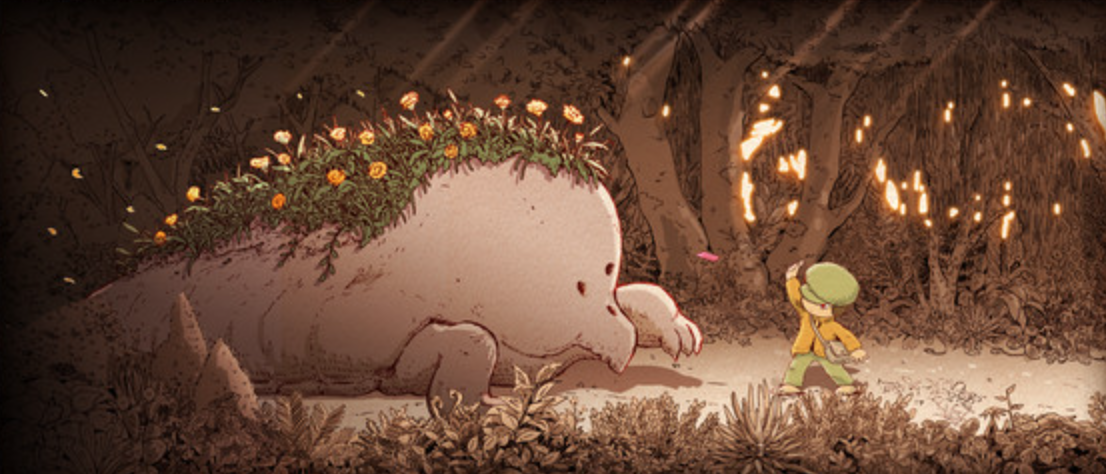 OU Seems Promising
Developers Room 6 and G-Mode are developing a game called OU that has some Studio Ghibli fans on the edge of their seats. Not that we want to compare the two, but with the art style and the type of world the game resides in…it's hard not to and to say the least, the game looks amazing so far and very promising, even during its development. This was announced on the 5th of June during the Indie  Live Expo Spring 2021.
INDIELiveExpoを見逃したみなさま。
ジー・モードさんとroom6さんと共に作成中の新作「OU」#OU #Ougmode のプロモーションムービーはこちらから視聴できます。どんなふうに作ってるか分かるし、かわいいネコチャンも登場します。https://t.co/7DEw5WZych pic.twitter.com/XVwEyurSTg

— こうだおさかな (@kodaosakana) June 5, 2021
Translation: Everyone who missed the INDIE Live Expo. You can watch the promotion movie of the new work "OU" #OU #Ougmode, which is being created with G-mode and room6, from here. You can see how it is made, and cute cats will also appear. https://gmodecorp.com/cs/ou/
About the game
OU is an adventure game, that follows the story of a young boy called OU who wakes up in a shrivelled up riverbed without any recollection of how he got there, or any memories at all. Where Ou ends up is in a place called U- Chronia, a world that lives in hazy memories of the distant past. Along the way, he meets an opossum named Zarry who guides him on a journey to find out his past.
OU also encounters as mentioned on their steam page "The Saudage Specter, who haunts the boy; Gemini, who looks just like him; The Weeping Woman "La Llorona", who leads him to tragedy. All of them are there to change the Story and how it will end."
The entire world is built on hand-drawn illustrations, which easily resembles a children's book, much like Studio Ghibli's storybooks.  The game is accompanied by relaxing guitar music and "nostalgia for an old home town".  As they describe it to be "just like a Michael Ende book", OU disguises itself as an adventure game to interact and meet with reality, it's described as something that's meant to be a challenge, "a challenge to games as a whole".
U-chronia is a mysterious world constantly changing like a book whose pages are flipped out of order. You will wear the shoes of OU, the protagonist, to live through this game-shaped experience—without knowing what it really is.
I mean, if this doesn't scream Studio Ghibli vibes, I don't know what does. It's an extraordinary concept, even if the two are different. We have the right to assume that Room 6 and G-Mode aren't just here to give us an enjoyable game, but a life lesson along with it as well. I, for one and looking forward to its release in 2021.
The trailer & Development
The Release
There isn't an official date for release yet, but the developers say it will be some time this year and that it will be available to get on steam for PC and for the Switch on the Nintendo Eshop.
Keep up with all the latest gaming news, competitions, future discounts and amazing content.
Twitter: @Go2Games
Instagram: @go2gamesshop
Youtube: Go2games.com
Facebook: Go2games.com
You can subscribe to the Go2Games newsletters via the website.