The next Sims 4 expansion update could feature players heading to the English countryside.
According to GamesRadar many Sims influencers have been receiving postcards that teases the countryside setting for the new The Sims 4 expansion. The postcode shows a fictional location called Henford-on-Bagley with a bridge over a river.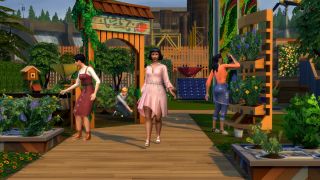 The postcard reads 'We're so pleased you're joining us in Henford-on-Bagley! I'm sure you will enjoy the quaint countryside life. Do come join us at our garden stall when you arrive!'
The postcard also reveals that the mayor has spoken of worldwide tourism that Henford-on-Bagley will have, taking place on June 10, which seems to be the new expansions release date.
There have been rumours flying around for some time that EA will release a countryside/farming expansion pack for The Sims 4. Many fans are hoping that the new expansion will have a farming element.
EA will be releasing the 'tourism video' on June 10.