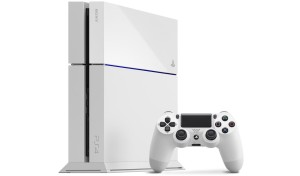 Sony confirms a date for the White PS4 in the UK!
Retailers are selling the alternate console for an additional £20
For those of you who enjoy the lighter life, you can now grab yourself a glacier-white PS4 on it's own, as it was only available previously in bundles!
Sony has confirmed to GameSpot that the brand spanking new glacier-white PS4 will be shipped in the UK this Friday 17th October, huzzah! 
It appears that retailers are selling these systems at a slightly more hefty cost, selling each 500GB unit for around £350. They're exactly the same as the standard black PS4 console and come with a custom white DualShock 4 controller, as well as all the additional cables and materials. There has been no "official" price drop on the PS4 or Xbox One, for that matter, but both are being sold in the UK for a lesser price of £330 each.
As mentioned, these consoles were only previously available to purchase in bundles, with games such as Destiny and DriveClub. Also due to launch across the UK in November will be a white PS4 Far Cry 4 bundle. Only three days left to wait!