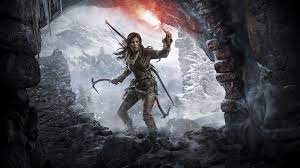 New details have recently emerged regarding the deal that Xbox formed to ensure exclusivity for Rise of the Tomb Raider in 2015
This surge of attention towards Xbox's exclusivity of Rise of the Tomb Raider is a discovery made by Twitter user @bogorad222. Information regarding the sum of money to ensure Xbox exclusivity had been taken from the LinkedIn profile of Fabien Rossini, the former Square Enix corporate development director who states to have made the $100 million deal with Microsoft.
Rise of the Tomb Raider exclusivity deal with Microsoft was worth $100 million.
Other stuff. pic.twitter.com/BH6TkhI9eL

— Timur222 (@bogorad222) August 30, 2021
This is not only new information regarding the Tomb Raider franchise but also gives insight into a largely unseen aspect of the gaming industry. The amount of money spent to secure these deals are typically kept as private information. If the claim is true, it's possible that the total sum of money had also gone into Microsoft's own marketing of the game.
This also adds up to a similar deal brought up recently from confidential documents present at the Apple vs Epic trial. Epic Games had struck a deal of $150 million to grant timed exclusivity for six months for Borderlands 3 on the PC (in comparison to Rise of the Tomb Raider's Xbox exclusivity lasting a year).
These court documents also revealed that a $200m minimum guarantee to Sony was offered by Epic for four to six PC & Playstation courts, but Sony had declined that offer.
As a late 2015 release, its end-of-year sales reached one million copies. As the Xbox exclusivity had ended in late 2016, it was then released on PS4 with a multitude of new content. This includes the Tomb Raider 20th anniversary branding and a PSVR experience for the PS4. to ensure extra immersion into the game and its scenery. In November 2017 a year later, on all platforms, the game had hit seven million sales.
All in all, it is difficult to say whether the gamble of exclusivity fully paid off due to the mass increase of sales from the inclusion of different platforms. For example, when released in 2016, the PC version had accumulated six times as many more sales than the Xbox release the prior year. Nevertheless, the Xbox exclusivity had been a generally memorable aspect of the franchise at this time, and this newfound knowledge regarding how much money went into securing the deal is an insightful look into the industry.
We have various sales going on at the moment. Use the following discount codes on the items within their partnered URLs:
Use BACK2SCHOOL – For 5% off all Pixie Crew stock!
https://www.go2games.com/back-2-school-g2g
Use MOON10 – For 10% off Harvest Moon: One World (Switch)
https://www.go2games.com/g2g-harvest-moon-one-world-nintendo-switch-plus-key-ring
**Ends Sept 3rd 2021**
Use CODMW5 – For 5% off COD Modern Warfare (Xbox One)
https://www.go2games.com/call-of-duty-modern-warfare-xbox-one
**Ends Sept 3rd 2021**
Use TOON5 – For 5% off Splatoon 2 (Switch)
https://www.go2games.com/cl-splatoon-2-nintendo-switch
**Ends Sept 3rd 2021**
To keep updated with the shop activities and weekly competitions, follow Go2Games on social media:
Instagram: Go2Gamesshop
Twitter: Go2Games
YouTube: Go2games.com
Facebook: Go2Games.com