About a year ago 8 members belonging to Aeon Must die's development team was met with harassment and abuse therefore they decided to quit working for Limestone's development team.
The publisher Focus Home Interactive had released a statement claiming that they are going to look into all allegations however they haven't said anything about the game.
Focus Home Interactive have since posted the trailer of the game's reveal on their official YouTube channel. Consequently fans and players of the game would be questioning about the developers and the games controversial side.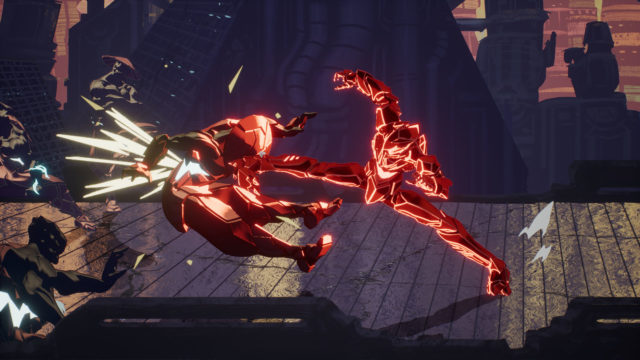 The trailer starts off with this dark mysterious floating environment. There is a voice that speaks to us telling us our minds have been claimed for the void and questions who we think we are to stand in the way of vengeance. Then the trailer shows some of the fast paced beat 'em up styled gameplay.
In August of 2020 Aeon Must Die was one of the games featured in the PlayStation's State of Play presentation. A while later after Aeon Must Die's debut there was a popular Youtuber by the name of Erkki Poots that claimed the game was made with manipulated abuse and theft after reposting the original trailer of the game on their YouTube account. Erkki Poots then took it a step further by linking a Dropbox folder with an extremely large amount of files claiming that it was evidence and then went on to accuse the developers Limestone Games.
It was stated in the folder the reason why the 8 members of the development team were "supposedly forced to quit" was due to their work environment being unbearable, manipulative, intimidating and being mistreated. In addition to that this same file claimed that the team working on the game and the trailer did not have a proper contract and were not paid at all.
Focus Home Interactive had tweeted on Twitter that they were aware of the allegations. Focus Home Interactive claims they will be looking into all allegations and dealing with all the controversy that surrounds them.
Aeon Must Die will be available to play on PlayStation 4,Xbox One, Nintendo Switch and PC sometime this year in 2021.
Be sure to vote for G2G with these links below:
Croydon awards Vote G2G education + training
Vote G2G Croydon awards+ community
Find Go2Games at:
Instagram: Go2GamesShop
Twitter: Go2Games
Youtube: Go2Games.com
Facebook:Go2Games.com
Check out our Go2Games website and sign up to our newsletter to keep updated on our products, offers and news.