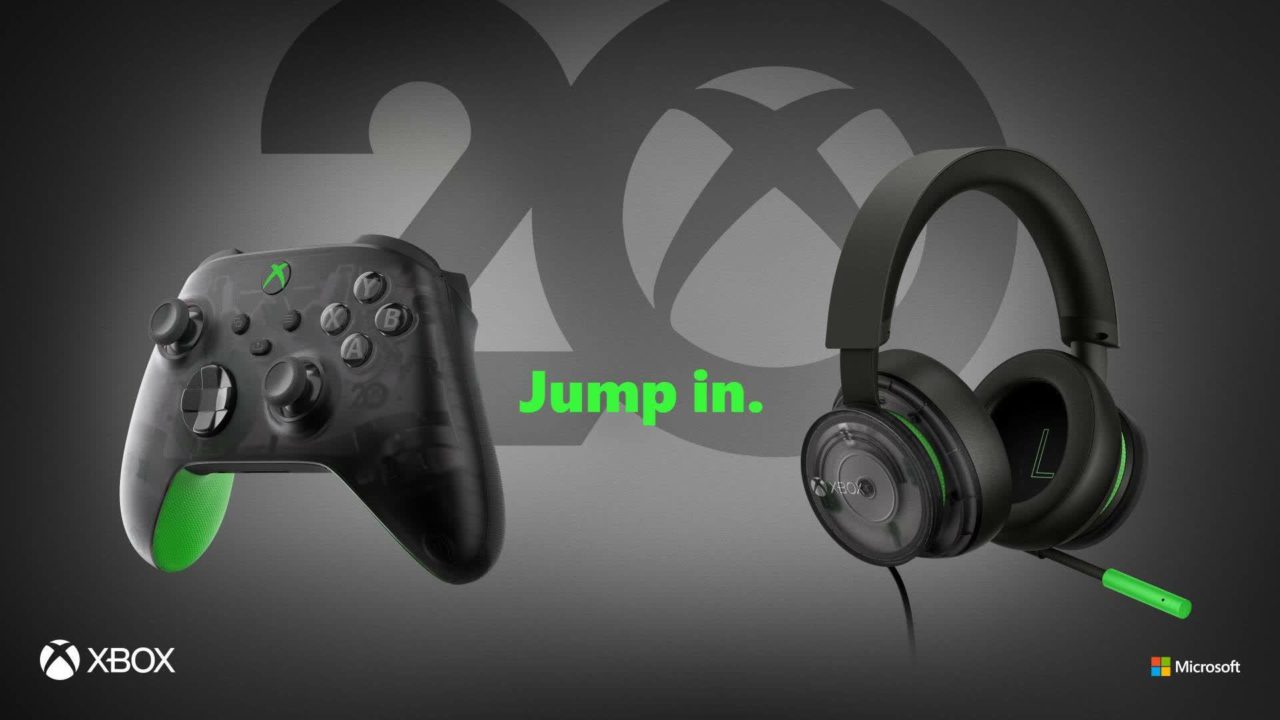 November 15th of this year will mark two whole decades since the Xbox first launched. Wow. It's older than my brother.
In a recent announcement, Microsoft shared that they would be releasing a special 20th-anniversary controller and headset for the Xbox to commemorate the occasion.
The headset and controller both feature a translucent black finish with silver internals so you can see the interior details of your controller. It also features details in Xbox-iconic green, at the back and around the D-pad.
The 20th Anniversary Special Edition controller will be complete with all the features you expect from the new Xbox Wireless Controllers, such as improved ergonomics, better cross-device connectivity, a dedicated Share button and reduced latency. You will be able to pair and switch between your devices including the Xbox Series X / S, Xbox One, Windows PCs, Android and iOS via Xbox Wireless, and Bluetooth technology.
There's also a special 20th-anniversary charging dock, in the same style as the other products. This charging stand will fully charge your controller in under 3 hours, and has been designed with overcharge protection to prevent overheating and short-circuiting.
The 20th anniversary headset is built upon the latest Xbox Stereo Headset, with all its accompanying bells and whistles such as an adjustable headband with plush cushioning to spread pressure more evenly around the top of the head, ultra-soft large earcups, and accessible on-ear controls for volume and mute. As always, it connects directly to the Xbox Wireless Controller or other devices through the 3.5mm audio jack, no batteries required.
To be honest… I think it's pretty hideous. I'm really not a fan of the translucent finished look; why would I want to see my controllers' insides? I'm plenty happy with my sleek, white, Xbox controller and dock. It doesn't help that Xbox green is a pretty garish contrast with black. I think the green looks fantastic against white, but it is just not a nice combo with black.
Inspired by our past, designed for your present.

Announcing the 20th Anniversary Special Edition Xbox Wireless Controller and Xbox Stereo Headset: https://t.co/nNq6kj1bcY #Xbox20 pic.twitter.com/ar6kBiRiQG

— Xbox (@Xbox) October 7, 2021
The controller and headset seem to have received a very positive response overall, though. Seems I'm in the minority of thinking this is ugly. I guess that's just the way: you can't please everybody, right? One nifty feature of the controller, though, is that by connecting it to your Xbox Series X / S, you will unlock a special anniversary background. The retail price is set at £59.99, which is the same as other special edition controllers.
Check out our selection of Xbox controllers and accessories, at a range of prices, here!
Sign up for our newsletter from the website.
Instagram: Go2GamesShop
Twitter: Go2Games
Youtube: Go2Games.com
Facebook: Go2Games.com
Store: Go2Games.com
Before you go: grab these voucher codes for use at Go2Games!
These offers end on October 18th
Use HARVEST5 for 5% off Monster Harvest!
Use WRC10 for 10% off WRC10 on all platforms!
1 day to go…