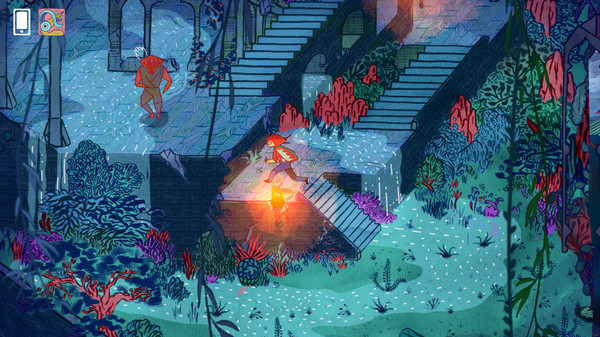 30 Birds, A Storybook Adventure Game has A New Trailer For Their Steam Page
30 Birds is a mysterious adventure game developed by Ram Ram. This hand-drawn world is filled with vibrant colours, quirky characters and memorable dialogue. As you most likely guessed, the aim of the game is to find 30 birds and is based on Persian mythology. You play as a young girl named Zig, who must explore each of the Lanterns, which happen to have the hand-drawn worlds on them, cities and more, to accomplish her goal. Finding the 30 birds means that she can awaken Simurgh, the giant bird Queen, from her 10-year-long sleep.
"Help Zig to find the thirty birds in a fantastic hand-painted city mixing 2D with 3D in an amazing way. You'll have to explore, talk, outwit and play music with all kinds of bizarre characters to save Simurgh, the giant bird goddess."
this is the small trailer we made for the Steam page
(>>> https://t.co/zoQepFkFmH – open for wishlist if you want to help 😀) pic.twitter.com/P4hy59H4u0

— ram ram ⚒ 30 Birds 👉 wishlist on Steam (@RamRamGames) August 10, 2021
Ram Ram have described their game to us in a few details, with the following features :
"Beautiful hand-drawn environment inspired by Persian art, bursting with colors, patterns and strange perspective."
"Rich dialogues and lore mixing old tales, mythology and modern everyday life with a very contemporary humour."
"Unexpected DUB / SKA soundtrack with Middle-Eastern quirks makes the world feel alive."
"Play music with Lanterners and they will help you in your quests – find new sounds and use them on their instruments."
"Add birds on your last generation Gem-Phone™ chat app – the phone also includes an inventory, a gallery and other secret apps."
This vibrant game can definitely catch the attention of anyone who wants to hop into a Persian folklore storybook or have some fun around Persian mythology and experience what it would be like to meet some of their legendary creatures.
Keep up with all the latest gaming news, competitions, future discounts, and amazing content.
Twitter: @Go2Games
Instagram: @go2gamesshop
Youtube: Go2games.com
Facebook: Go2games.com
You can subscribe to the Go2Games newsletters via the website.