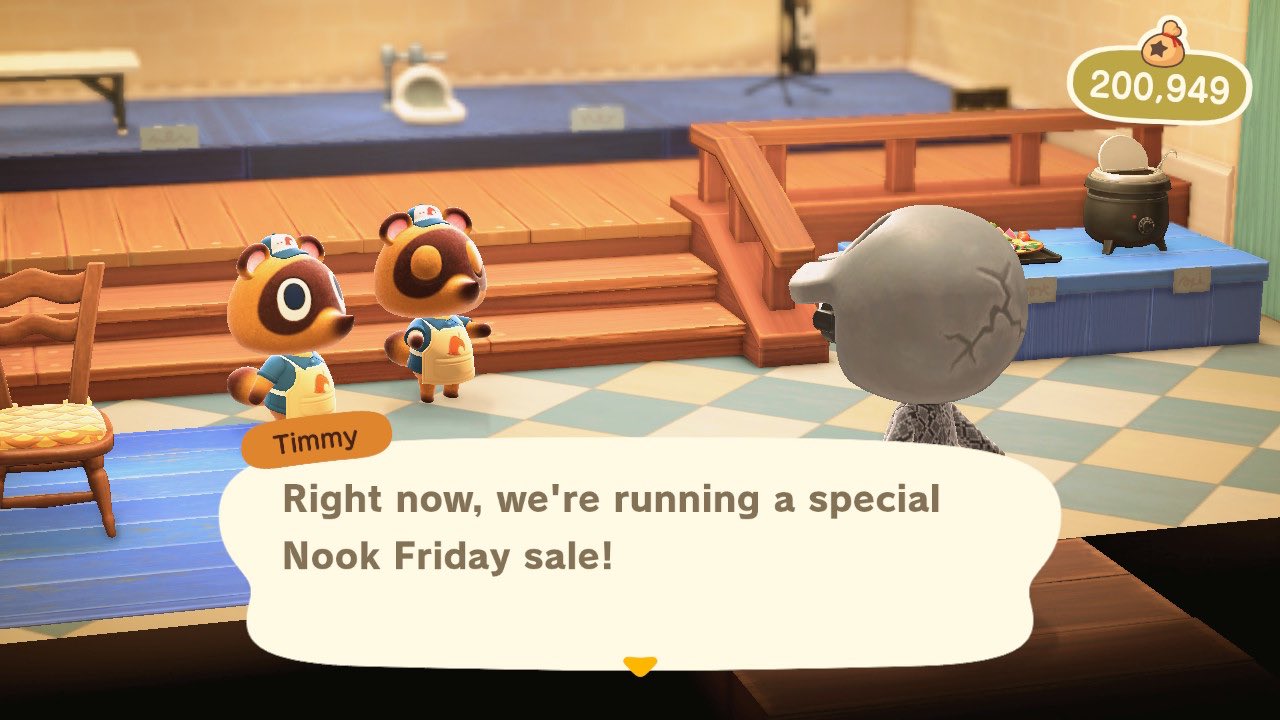 Animal Crossing New Animal Crossing: New Horizons Has A Black Friday Sale At Nook's Cranny
Nintendo has added a lot more than we expected to Animal Crossing New Horizons, while we have seen a lot of what they've added through the Animal Crossing New Horizons Direct, there's a lot that Nintendo hasn't shown us. Including special items, events and seasonal DIYs. Including a specific event for Black Friday, renamed Nook Friday in Animal Crossing New Horizons.
Nook Friday is an event where Nook's Cranny sells items for 30% less than the original price from the 26th November to the 30th November, which can be pretty good for items such as the Elaborate Kimono, Grand Piano, Harp or the wedding ring box.
Fans discovered this after time-travelling forward into the future and posted their gameplay on Twitter.
nook friday sale??? well this is new pic.twitter.com/JBJn2CqqoK

— Dalia☕️🍂 (@daliacrossing) November 6, 2021
"Right Now We're Running A Special Nook Friday Sale" – Timmy & Tommy –
How Nook Friday Will Affect Animal Crossing Players
This is certain to become a very popular in-game trade system for Animal Crossing players. It's common to have players visit another players island to see what their shops have in stock for the price of 1-5 Nook Mile Tickets, which happens to be the trading currency.
However, players must know that despite the items being 30% off, once the items on the back display are bought, they cannot be purchased on that specific day again, no matter how much a player time travels. Once the item is bought and the game is saved, if a player were to repeat the day from the default 6am reset time, that item would still be marked as sold, which means other players cannot buy that item for 30% off, even if the catalogue it.
It will certainly be interesting to see what people get for the year 2021, it's a mix and match, some will be the new items that have only just been added in update 2.0.0 on the 5th November, which will without a doubt be the most popular amongst Animal Crossing Players.
Fans are fascinated by this discovery and will continue to be excited for more secret gems Animal Crossing New Horizons has to offer.
🚨THERE'S A NOOK FRIDAY SALE I REPEAT A NOOK FRIDAY SALE🚨#ACNH #AnimalCrossingupdate #AnimalCrossing #AnimalCrossingNewHorizions pic.twitter.com/zgjejR7GcK

— ✨💜Terrestrial Plays💜✨ (@TerrestrialTTV) November 4, 2021
If you enjoyed this, keep up with all the latest gaming news, competitions, future discounts, and amazing content.
Twitter: @Go2Games
Instagram: @go2gamesshop
Youtube: Go2games.com
Facebook: Go2games.com
You can subscribe to the Go2Games newsletters via the website.