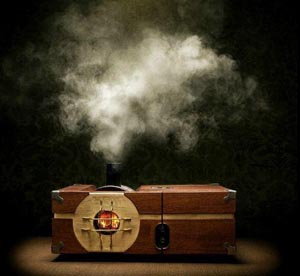 April Fool's Prank
ThinkGeek announce their first ever "Steam-Powered Gaming Cabinet"
Why did they have to trick us with this?! It looks and sounds amazing, and it's Steampunk for crying out loud!! As part of their annual April Fool's joke, ThinkGeek have announced the release of their first ever "Steam-Powered Gaming Cabinet". 
"While hearkening back to a simpler time when steam powered the world, the console utilizes its coal-fired boiler to play all of the modern games on Valve's streaming service, Steam," ThinkGeek tells us. "All that a user needs to do to play games from their Steam library is begin shovelling coal to get the boiler stoked." Below are some bullet points which will tell you a little more about this make-believe console (I'm still upset about this, by the way…).
Multiple panels to access main controls and adjustment knobs
Boiler viewing window and thermometer (to make sure your fire is burning at the maximum temperature)
The wired controller features ball-jointed thumb-sticks and typewriter-feel keys
Controllers and Steam-Powered Gaming Cabinet have a pleasant and warming vacuum-tube glow
There is a viewable piston with a steam venting valve for easy maintenance
SteamOS is pre-installed (this can also be configured to run Linux, FLOW-MATIC, Fortran, and others)
Lastly, there is a side chute which opens for additional coal to be added
I KNEW THIS WAS TOO GOOD TO BE TRUE!! NOOOOOOOOOO!!