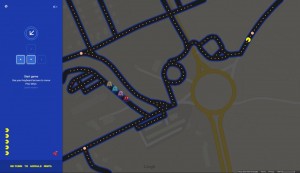 Pac-Man and Google Maps
You can now play Pac-Man on your Google Maps! Makes travelling a whole lot more exciting..
Google have made is possible for you to turn your travel route into a Pac-Man extravaganza! By pressing the Pac-Man icon in the lower left-hand corner of the screen, your current location and where you're travelling to will turn into a level from the game. No only this, but the experience comes with in-game sound effects and a very limited amount of music.
The maps include curved and diagonal roads which are far more superior to what you will find when playing the actual Pac-Man game. There is one restriction, however.. You do need a certain amount of roads to be able to play like the actual game.
This was all discovered yesterday and could have been an (early) April Fool's joke from Google, but we don't know ?! You can check it our for yourself HERE.