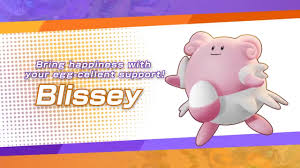 Joining the lineup of current Pokémon in Pokémon Unite will be Blissey.  Eldegoss and Blissey are classed as defending and assist Pokémon. Defending ally Pokémon from attacks and assisting by using moves that could increase Hp and/or boost defenses. In other words Blissey and Eldegoss will be the light screen, helping hand and healing pulse of Pokémon Unite. In the main series games Blissey is known for having a high Hp stat. Lets all hope that Blissey will get to use its signature move soft-boiled in Pokémon Unite.
Blissey is an egg-cellent Supporter Pokémon with moves that heal or increase basic attack speed! Its Unite Move, Bliss Assistance, allows it to dash to an ally's aid and protect that ally from attacks.

Bring your allies happiness with Blissey, coming 8/18 to #PokemonUNITE! pic.twitter.com/gI1moTmoUM

— Pokémon UNITE (@PokemonUnite) August 16, 2021
The Official Pokémon Unite Twitter account has showed us gameplay of Blissey in Pokémon Unite using egg moves. If I had to guess what moves they were I would guess egg bomb and soft-boiled. However it still isn't clear on Blissey's full move set and if it will get other moves like it has in main series Pokémon games.
However we do know that one of Blissey's moves in Pokémon Unite will be Bliss assistant but we aren't sure if it shields an ally Pokémon like a protecting move or it will instead make the ally Pokémon immune to attacks for a certain amount of time.
For players that were expecting Blastoise have been surprised by the addition of Blissey. The Official Pokémon Unite Twitter account had confirmed that Blastoise was going to be the newest addition to Pokémon Unite just before Pokémon Unite's official release on the Nintendo Switch. Blastoise and Gardevoir were not going to be in the game on release day as told by Nintendo but with the arrival of Gardevoir there hasn't been any updated news on Blastoise but we now know that the mystery question mark was in fact Blissey. Many fans have been left wondering if the delay for certain species and types of Pokémon is either unintentional or planned from the very beginning.
During Blastoise's announcement the coloring appears to reveal that Blastoise is going to be classed as a defending Pokémon which makes a lot of sense especially if we were to base it on its defense stat from the main series games as Blastoise is known to have the highest defense stat out of all the original Kanto starter Pokémon. Last but not least as we welcome the new arrival of Blissey we will also look forward to the next lineup of Pokémon that will soon be added to Pokémon Unite.
Pokémon Unite is available on Nintendo Switch and will also be available to play on mobile devices this September.
Be sure to vote for G2G with these links below:
Croydon awards Vote G2G education + training
Vote G2G Croydon awards+ community
Find Go2Games at:
Instagram: Go2GamesShop
Twitter: Go2Games
Youtube: Go2Games.com
Facebook:Go2Games.com
Check out our Go2Games website and sign up to our newsletter to keep updated on our products, offers and news.