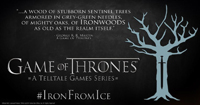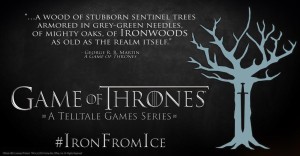 Telltale release a cryptic teaser for GoT game series..
"A wood of stubborn sentinel trees armored in grey-green needles, of mighty oaks, of ironwoods as old as the realm itself."
What do YOU think this message means?! If you're a Game of Thrones fan then read on! I'm certainly intrigued…
So, Telltale (The Walking Dead developer) have released another teaser ahead of their new adventure game which is based on George R.R Martin's grand fantasy series, A Song of Ice and Fire, which they posted to their Twitter!
Telltale have reached an agreement with HBO, as confirmed last year, to make an episodic series of games based on the fantastic fantasy fiction! Not a lot about the upcoming game has been confirmed as of yet, as in which wonderful world the game will have it's story set in.
All very exciting stuff so, if you're an avid fan, then we suggest you keep both eyes peeled for more info!