According to the publisher, Capcom's Monster Hunter Rise has already shipped 4 million copies over the first weekend that it was released. The impressive figure for the action-adventure just falls slightly short of Monster Hunter World's 5 million units sold in the first weekend.
According to its own data, Capcom's Monster Hunter series has shipped over 66 million units since their first instalment in 2004.
Monster Hunter Rise launched on Friday, 26th March alongside a special edition Monster Hunter Rise Switch console as well as three Amiibo that allows players to unlock new armour sets.
Following the release last week, Capcom stoke rose to an all-time high in Tokyo, which emphasises Capcom's high hopes for the Switch exclusive title. The publisher told shareholders that they expect to generate almost 20% more operating income this year, thanks to the 'promising' start to pre-orders for the game. Below you can see the queues outside New York's Monster Hunter store.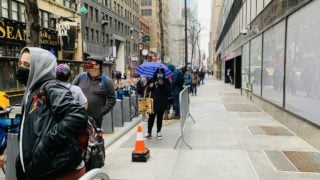 Capcom's European COO Stuart Turner told GamesIndustry.biz in an interview that 'We're working very closely with Nintendo of Europe to make Monster Hunter: Rise a success in the region.'
He continued to say 'We're very confident that the massive success we've had in the past with Monster Hunter: World will transfer across to the passionate fanbase we have on Nintendo Switch.'