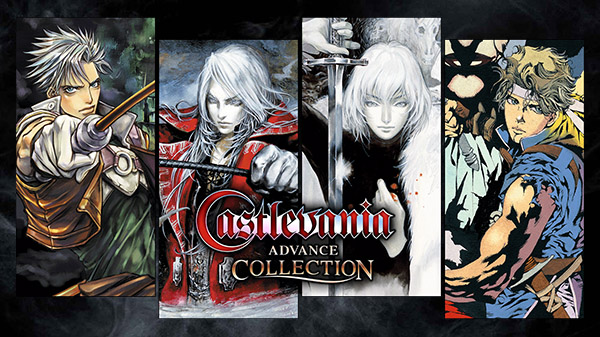 After months of anticipation, we can finally get our hands on the remastered GameBoy Advance Castlevania games for Switch
If you have been following our blog for the past few months, you will be aware that eager eyes had spotted various game rating boards rating Castlevania Advance Collection without Konami releasing any information regarding what the collection would contain and when we could get our hands on the games.
Yet the wait is now finally over as during last night's Nintendo Direct, Konami announced the Castlevania Advanced Collection is now available on Switch.
Castlevania Advanced Collection
The game is available to purchase at £15.99 and contains 3 Castlevania titles that were originally released on GameBoy Advance, as well as another title that was originally released on SNES.
Castlevania: Circle of the Moon was released in 2001, set in 1830, and follows the protagonist Nathan Graves, who's following the footsteps of his deceased parents and his mentor Morris Baldwin take on Dracula. Castlevania: Harmony of Dissonance was next released in 2002. The game is set in 1748 and follows Simon Belmont's descendant Juste Belmont, who is trying to save his kidnapped friend Lydie from Dracula's castle. The third game, Castlevania: Aria of Sorrow, took on a less conventional setting. Released in 2003, this Castlevania game is set in 2035 and follows teenager Soma Cruz who has occult powers. And the final game, Castlevania: Vampire's Kiss is an adaptation of Castlevania: Rondo of Blood and goes by the title Castlevania: Dracula X, and sees protagonist Richter Belmont take on Dracula.
Players will be able to choose between the Japanese, American, and European versions of each game as well as experience the art gallery with never-seen-before artwork. There is also a music player that lets you listen to all of the soundtracks and each game has save slates and a rewind function.
The collection is expected to come out on Xbox, PS4, and PC too, yet a release date is still set to be announced.
Sign up for our newsletter from the website.
Instagram: Go2GamesShop
Twitter: Go2Games
Youtube: Go2Games.com
Facebook: Go2Games.com