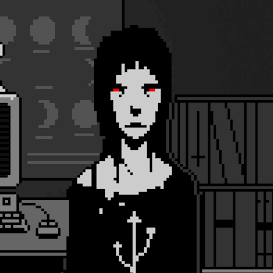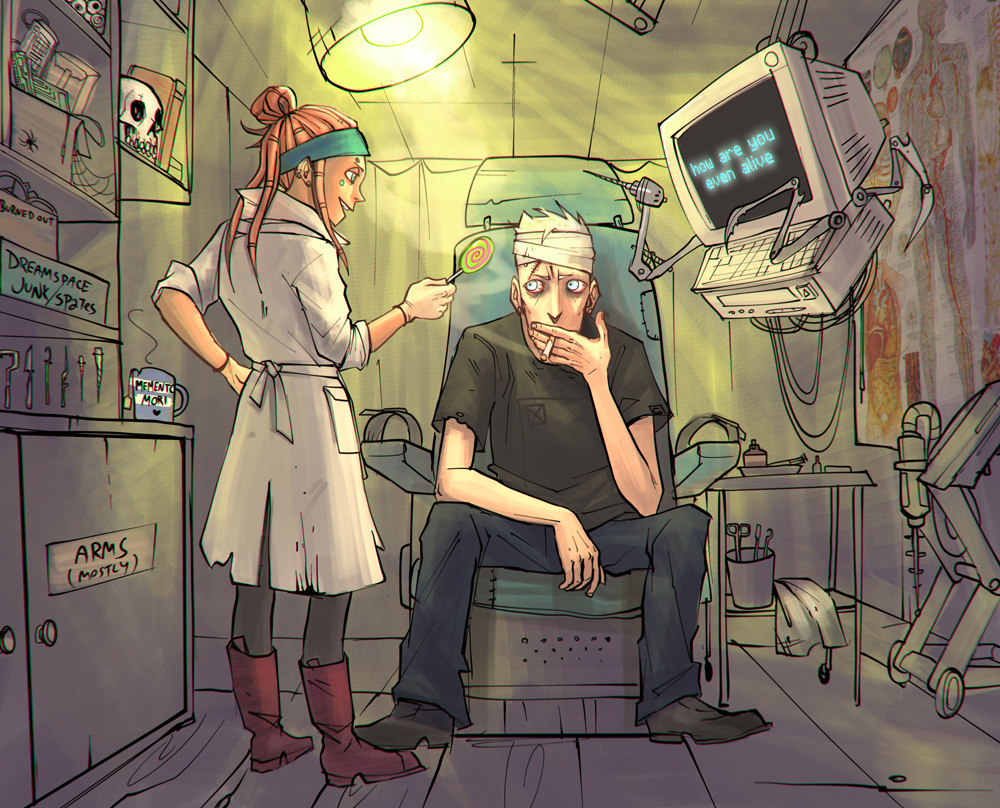 cryoclaire shares her weird and wonderful world with Go2Games
We were privileged enough to catch up with artist cryoclaire, ahead of this weekend's MCM Comic Con London, where she'll be showcasing her incredible artwork! Here's what she had to say…
1)      Tell us a little about yourself, cryoclaire!
My name is Mary, but I go as Cryoclaire on the Internet! I'm from Latvia, but I live and work in Horsham just south of London. For the past few years I've been working on series of comic strips set in a hilariously miserable cyberpunk universe called "Drugs and Wires" which I should have on me at MCM. These days "Drugs and Wires" is finally shaping into a  webcomic
( http://www.drugsandwires.fail/ ), thanks to my collaborator Io Black who took on the writing and editing. Most of my free time now is spent drawing – not that I'm complaining! 
If you enjoy cyberpunk, black humor and outrageous medical malpractice, come see table CL8 at MCM Comic Village! We've got flyers and everything.
2)      When did you enter the world of art and what inspired you?
I've always been drawing, so there was never a conscious decision to "start" in the first place – but I do remember the moment  I stopped drawing animals and stuff normal kids would draw, and switched onto the "weird stuff": for me that was seeing Gorillaz on TV for the first time. I was 12 at a time, and their video for Clint Eastwood ended up defining a lot of my art taste.
3)      Have you showcased your artwork at other events?
 This is my third MCM, but I haven't attended any other events so far. But I will be attending Thought Bubble in November, and I'm hoping to have some new books out by then.
4)      Do you have a favourite artist?
Jamie Hewlett is my favourite artist to this day – I will never get bored of his artstyle. But I have many favourites, and it's kind of hard to pick…Sophie Campbell, Tsutomu Nihei, Ashley Wood. One of my recent artist discoveries is All-New Ghost Rider volume 1: Tradd Moore's artstyle blew me away. 
5)      Are you a gamer at all and, if so, what are your top three favourite games?
Despite working in the games industry, I don't have much time to play games these days! I still love my 3DS and play loads of handheld titles – Ace Attorney series are my all time fave. Shin Megami Tensei IV's been my go-to 3Ds game as of late. Alice and Alice:Madness Returns are the absolute winner when it comes to artstyle, and Skyrim wins in hundreds of hours invested. Ok, I've definitely listed more than three games, not helping the "artists are bad at math" stereotype there at all!
6)      PS4 or Xbox One?!
 Well, I do want to try Bloodborne at some point, sooo PS4? (but also PC GAMER MASTERRACE etc)
7)      Will we expect to see you at Comic Con in the future?
Most likely, at least at the London one. Thought I'd love to visit some in Midlands, too at some point!
cryoclaire will be displaying her artwork this weekend at Comic Con London, in Comic Village, so don't forget to go and check her out! Here are a few of her incredible pieces. Don't forget to check out her work in the link above also!