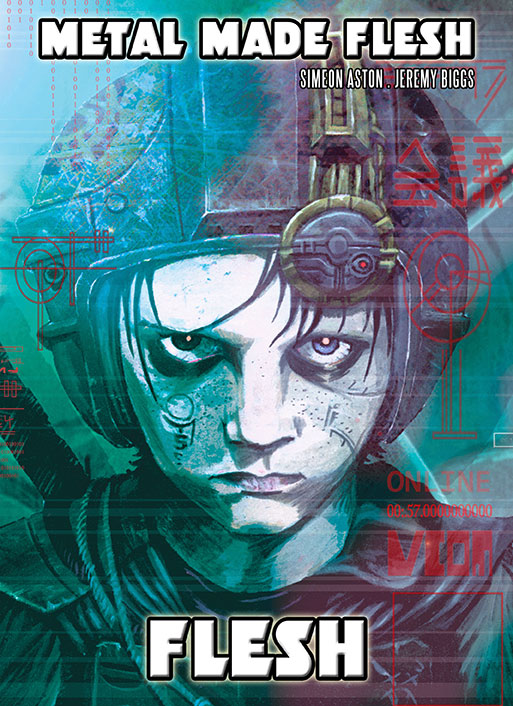 Go2Games meets Simeon Aston!
Simeon Aston is the creator and illustrator of the Cyberpunk stories, Metal Made Felsh (MMF), and he'll be gracing MCM Comic Con London this weekend with his incredible artwork, in Comic Village! We were lucky enough to have a chat with Simeon ahead of the convention, and here is everything you need to know about Simeon, his artwork, and gaming…
So..
I've been working as a freelance artist for around 10 years .
Early influences were concept artists Ralph Mcquarrie, H.R Giger (favourite artist), also Syd Mead and Mobius..
Movies – Bladerunner (My all time favourite), I also love  'Alien,Terminator 2, Empire Strikes Back, Indiana Jones and Big Trouble in Little China.
My work is also heavily inspired by Japanese Anime – Ghost in the shell, Akira and Ninja scroll.
So naturally my work has an old-school retro feel to it. Most of the people I talk to at conventions who love my work have the same tastes in movies and art.
I've been showcasing MMF in London for about 4 years mostly at MCM and LFCC.
I've been a PlayStation gamer since PS1.
I'm currently playing Battlefield: Hardline with my online crew. Best game this year for me has to be Alien Isolation
Top three games.. That's a hard one since I've been gaming for decades, but three games that spring to mind are..
Metal gear solid 3, GTA 4 ,and Mass effect 2.
so ye, I'm gonna be at most big conventions in London for the rest of the year promoting MMF as we move into phase 2 of the story, and expand the universe me and Jeremy have created.
If you're headed to MCM Comic Con London this weekend, then be sure to check out Simeon's table in Comic Village, and marvel at his awesome Cyberpunk creations! Here is a little preview of some of his outstanding work…