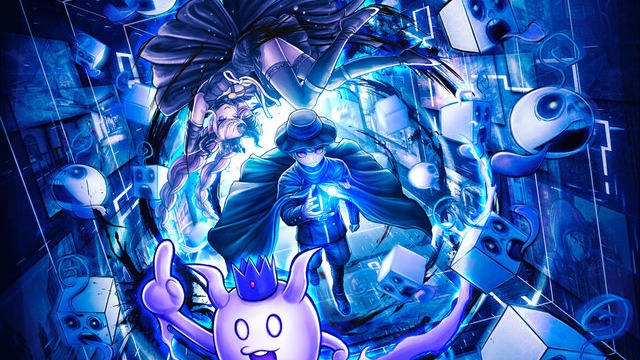 The team behind Danganronpa has announced a new dark fantasy game
Danganronpa recently celebrated 11 years since the first video game in the series, Danganronpa: Trigger Happy Havoc, was released in Japan. The series went onto become a huge franchise spawning manga, anime, graphic novels, and even a stage play.
Now, the team behind the games has announced a new dark fantasy game, titled Enigma Archives: Rain Code.
Enigma Archives: Rain Code
Not a lot of information has been releasing regarding the upcoming game Enigma Archives: Rain Code, however, a teaser site is already up and running for fans to explore from its developer, Spike Chunsoft. It is stated on the website that Enigma Archives: Rain Code will give players a "dark fantasy mystery" experience and even offers a teaser trailer that shows key visuals from the game.
It is clear from all the visuals given that this particular game inspired by Danganronpa will take on the iconic visualisation from its predecessor, unlike the previous games inspired by the dark adventure game series. The key visuals hints at spooky ghosts, pink blood, and long, ominous dark cloaks will be involved in the game. However, It is unclear from what we have seen whether Enigma Archives: Rain Code will follow the same gameplay mechanics as Danganronpa.
We also see a glimpse of our main protagonist and heroine in the trailer- a small boy with pink hair worn in the 'idiot hair' style common to all three Danganronpa games' protagonists, and a tall girl with even pinker hair, an elaborate gothic dress, and horns.
The teaser trailer also reveals that Danganronpa's creator and scenerio director Kazutaka Kodaka will be writing the story for Enigma Archives: Rain Code, Masafumi Takada will be composing the soundtrack, and Rui Komatsuzaki will be designing the characters.
Nothing else has been released regarding the new game, yet it is easy to say Danganronpa fans will be excited for this announcement.
Happy Black Friday! Check out our offers here!
Sign up for our newsletter from the website.
Instagram: Go2GamesShop
Twitter: Go2Games
Youtube: Go2Games.com
Facebook: Go2Games.com