Stranger Things and many more to come as free Far Cry 6 content
Ubisoft's Far Cry 6 has revealed that they have a decent amount of post-launch content for the game; the exclusive crossover content includes some very surprising guests and series to be added to the game: Danny Trejo, Rambo, and Stranger Things.
This had been revealed in a recently released trailer detailing the post-launch plans for the game come October 7; this includes a Season Pass DLC and a mix of free updates that will be available to all players. The roadmap runs from launch through to March 2022, starting with free-to-access Weekly Insurgencies on day one.
Three newly-revealed crossover missions will also be released for no additional cost. These start in December with "Danny and Dani vs Everybody", which will see the game's protagonist Dani Rojas team up with the actor Danny Trejos and his machete. A Rambo episode called "Rambo: All the Blood" will follow this in February 2022. Finally, a Stranger Things crossover, "The Vanishing", wraps things up in March 2022 and tasks players with finding their missing base game companion, Chorizo the dog.
As for paid post-launch content, owners of Far Cry 6's Season Pass (which is included in the Gold, Ultimate, and Collector Editions) will be able to revisit the prior iconic villains of the Far Cry franchise: Vaas Montenegro, Pagan Min, and Joseph Seed; this would be across three episodes that have context from the original games. "Players will embody a different villain struggling to escape the horrors of their own minds in a brand new 'die and retry' experience," explains Ubisoft. "Starting with nothing more than a pistol to defend themselves, players will need to find new weapons and unlock power-ups to become stronger and progress deeper into the depths of the villains' psyches."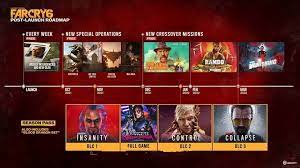 All three episodes have now been given release windows as part of Ubisoft's post-launch road map. Episode 1, titled Vaas: Insanity, is due in November, while Episodes 2 and 3 – Pagan: Control and Joseph: Collapse respectively – are due in January and March next year.
Alongside the aforementioned villain episodes, Season Pass owners also get a copy of Far Cry 3 Blood Dragon, plus the Blood Dragon Set, which includes a themed outfit, two weapons (the AJM9 and Kobracon), a KillStar weapon charm, the Omega Enforcer vehicle, the Blood Dragon vehicle Chibi, and K-000 Fang for Hire.
Far Cry 6 will be released on PC, Xbox One, Xbox Series X/S, PlayStation 4, PlayStation 5, Stadia, and Amazon Luna on 7th October.
Sign up for our newsletter from the website.
Instagram: Go2GamesShop
Twitter: Go2Games
Youtube: Go2Games.com
Facebook: Go2Games.com