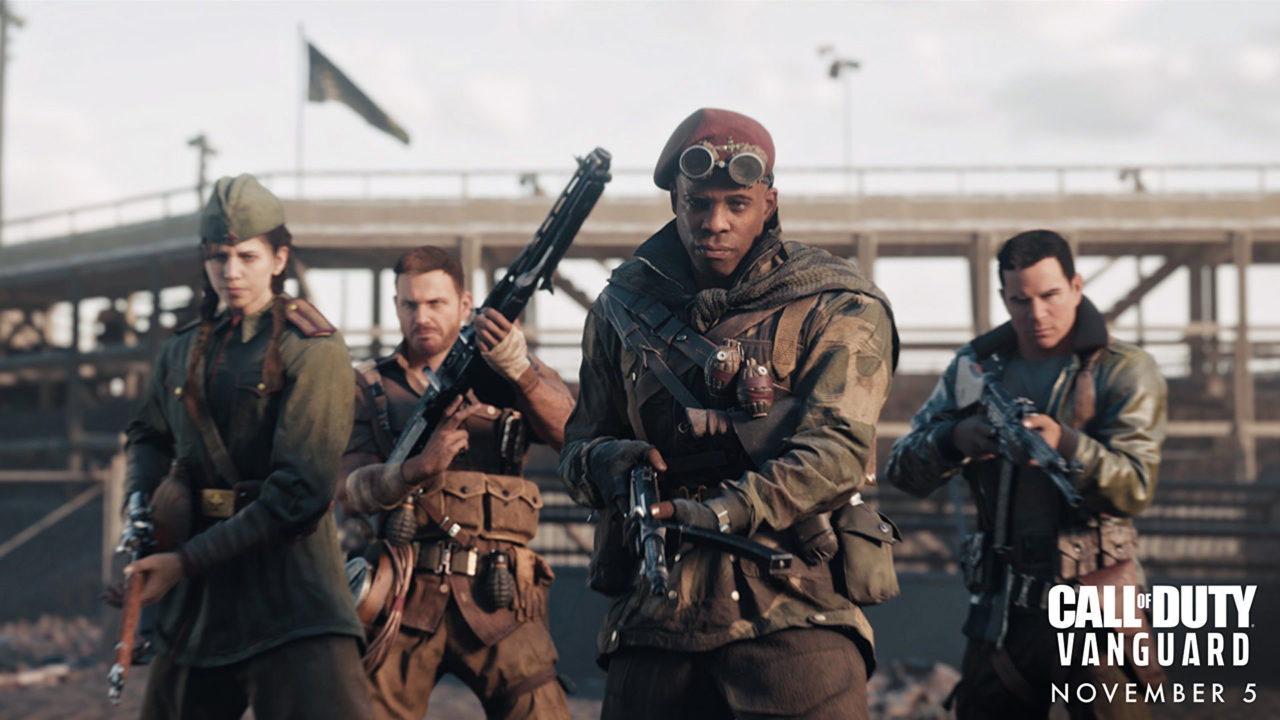 Sledgehammer Games speak on the use of DualSense that will be implemented into Call of Duty: Vanguard and the addition of four New Multiplayer Operators.
Call of Duty have shown clear focus on applying real qualities and features into Vanguard to give players a realistic experience. This being shown by the real-life WWII setting, the attention to detail, the weapons used and more. PlayStation 5 DualSense controller feature is used to "Heighten your senses" with "immersive haptic feedback, dynamic adaptive triggers and a built-in microphone, all integrated into an iconic design."
Depending on the gun of choice on Call of Duty: Vanguard. Players are to apply dissimilar amounts of pressure to the shooting trigger with this also applying to the aiming trigger. The controller will also give feedback, allowing the players to feel the weight of the gun as they fire with gun attachments also having affect on the feedback.
Sledgehammer Principal Engineer, Chris Fowler states in a PlayStation Blog; "Our goal in Call of Duty: Vanguard was to simulate the trigger weight of real-world weapons, and to give the player the opportunity to find the trigger pull that works for them in the game."
"The feedback applied by the DualSense controller doesn't just impact the firing trigger in Vanguard, but the scope trigger as well, meaning the downsight speed and L2 trigger weight changes based upon what weapon you're wielding.  For example. heavy weapons will feel heavy, lighter weapons will feel light, and everything in between.  Plus, the attachments you have on your weapon will play a role in this as well, so it's a factor to consider as you're making your selections." He stated.
Fowler then proceeds to explain how the use of DualSense's haptic feedback will work for players.
"So when enemy fire is tearing through your cover, you will feel the impacts of the bursts and debris around you"
The use of DualSense brings players a much more realistic feel to the game, closing the gap between gaming and real-life war.
In a separate PlayStation Blog, Sledgehammer also details four new multiplayer operators.
Main character, Arthur Kingsley is amongst one of the four added multiplayer operators with him previously only being able to feature on the single player campaign mode. With the only other already revealed campaign mode player, Polina Petrova also being one of the four new operators added onto multiplayer. Both being playable on Campaign Mode.
Other two operators are completely brand new, one being Daniel Take Yatsu, a brave loyal soldier that keeps the promise of "no one gets left behind". Lastly is Padmavati Balan, a rogue soldier that hates imperialism. She troops alone on a mission to save her people.
Call of Duty: Vanguard is scheduled for release on November 5th when all the discussed Vanguard content will finally be playable.
With Vanguard writers hoping on playing a hand in creating two sequels for the game, stated earlier this month. Also being discussed during a New York Comic Con panel by Sledgehammer contractor Sam Maggs. She stated that she hopes Vanguard's characters can become new mascots for the blockbuster franchise over multiple series entries.
Call of Duty: Vanguard releases November 5th on PS4, PS5, Xbox One, Xbox Series X/S and PC.
Grab these voucher codes for our website for some discounts! Offer ends November 1st!
Use ARKEVOLVED10 for 10% off ARK: Survival Evolved (Code In A Box) (Switch)
Use ULTRAMOON10 for 10% off Pokemon Ultra Moon Fan Edition (Nintendo 3DS)
Use ULTRASUN10 for 10% off Pokemon Ultra Sun: Fan Edition (Nintendo 3DS)
Sign up for our newsletter from the website.
Instagram: Go2GamesShop
Twitter: Go2Games
Youtube: Go2Games.com
Facebook: Go2Games.com