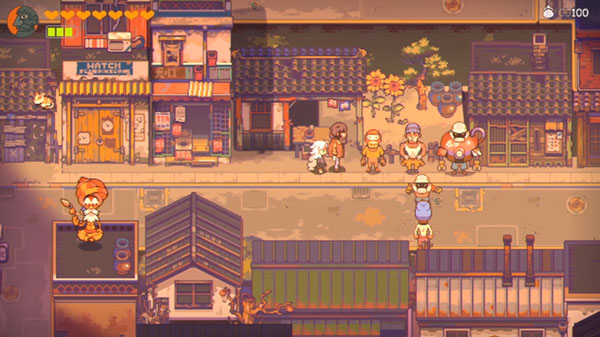 Image: Eastward – Pixpil
Developers Pixpil Are Releasing Eastward on the Nintendo Switch & PC The 16th September 2021
It's about time, I've been waiting for Eastward ever since seeing it in the Wholesome Games Direct during E3 2021, Indie Live Expo . If you don't know the Wholesome Games is a another gateway to knowing the best Indie Games out there, they frequently upload trailers to upcoming indie games this year. That being said…let's have a quick look at Eastward.
What Is The Eastward Indie Game About?
Eastward is a pixelated, aesthetically pleasing adventure game, developed by Pixpil. Society is collapsing and the human population is decreasing. A 'deadly toxic presence' has spread across their land, destroying everything. As said by Pixpil themselves "Escape the tyrannical clutches of Sandfill's subterranean society and join Eastward's unlikely duo on an exciting adventure to the land above! Discover beautiful yet bizarre settlements and make new friends as you travel across the world by rail." If you're curious, have a look at the game trailer below.
Discount Celebration
This beauty has been getting a generous, yet painful countdown by Pixpil. Many of us nervously sit there, waiting for it's release. However, during the painful countdown, they've offered 10% off Pre-orders. Not only that but, if you Pre-ordered on the Nintendo Switch like I did, then you will see that the game has automatically downloaded to your system, which means you can play the game as soon as the 16th hits at midnight in Japan, which is our 3pm UK time.
Watch Some Eastward Gameplay
If you're curious or maybe still not sure about getting Eastward, why not have a look at 25 minutes of Eastward Gameplay? It'll help you make your decision. Now, I know that next-gen games with amazing graphics get a lot of love, but pixelated games need love too. Especially when the dialogue and story stands strong, memorable and teaches you a lesson somewhere along the way. My personal opinion is that pixelated games and 2D games at that, are just as good as 3D games with realistic graphics and slow-mo combat.
Anyway, here's the gameplay by IGN.
The soundtrack and the nostalgic speech bubble sounds sold me. Eastward and onward with playing…Eastward! The game truly captures the feeling of a dying economy and a slowed down community, you feel a little hope, grasping onto it and trying to escape the future doom of society. I'll be reviewing Eastward, so stay tuned for that.
If you enjoyed this, keep up with all the latest gaming news, competitions, future discounts, special offers (CLICK HERE)and amazing content.
Twitter: @Go2Games
Instagram: @go2gamesshop
Youtube: Go2games.com
Facebook: Go2games.com
You can subscribe to the Go2Games newsletters via the website.