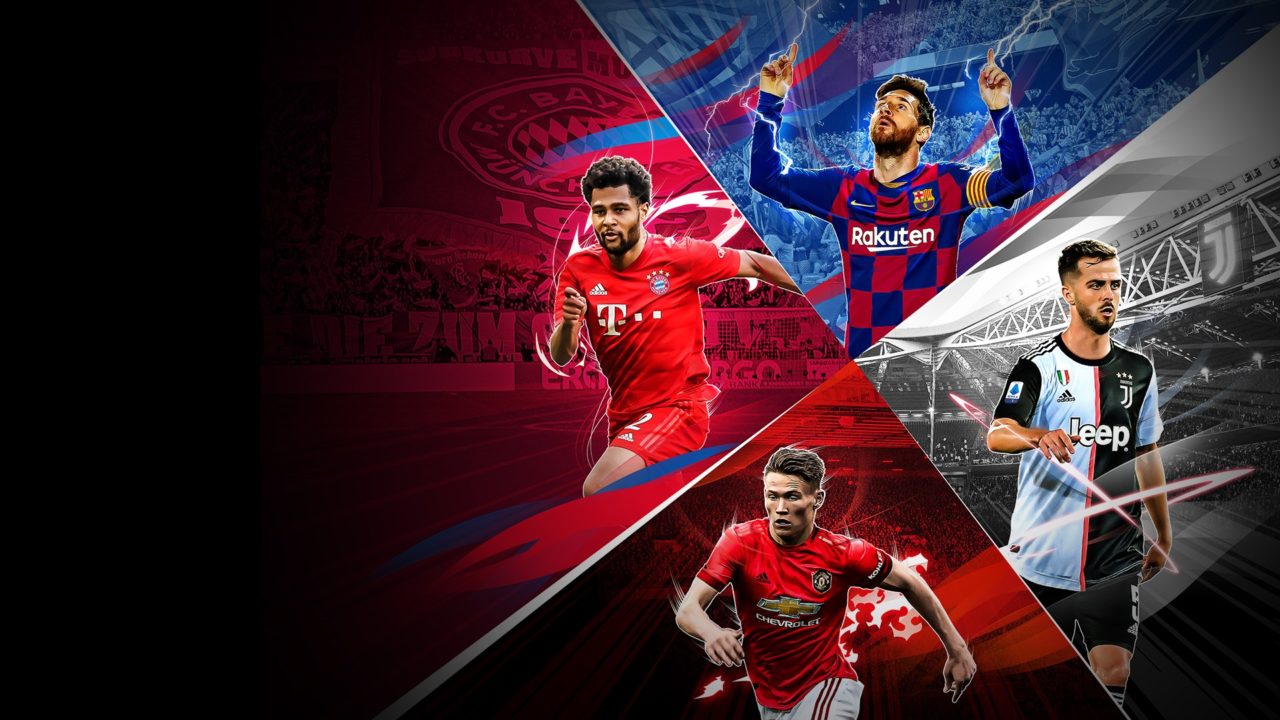 Here's everything you can expect…
Last month Konami announced it had renamed PES to eFootball and made it free-to-play and digital-only.
Konami has now come out and instructed us to treat the upcoming launch of the newly transformed eFootball as "a demo".
Addressing questions about the game in a Twitter thread, Konami asked itself: "is early autumn launch basically a demo?"
"In many ways, yes," Konami said. "We want people to get hands-on with eFootball as soon as possible, so we will launch with a limited number of teams and modes. Exact details to follow."
At launch, only local matches featuring the likes of Barcelona, Juventus, Bayern, and Manchester United will be available, alongside cross-generation matchmaking (PS5 vs PS4, and Xbox Series X and S vs Xbox One). You'll be able to play against CPU teams via local matches. Initially, eFootball won't have microtransactions, Konami clarified, which means everything will be free-to-play.
Then, later in the autumn, cross-play between all consoles and PC goes live, alongside a team-building mode (Ultimate Team-esque) and online leagues, where you "take your original team and compete in a global, competitive league".
In the winter, Konami will add mobile controller support, full cross-play matchmaking across all platforms, including mobile when using a controller, alongside pro and amateur esports tournaments. The full road map can be seen below: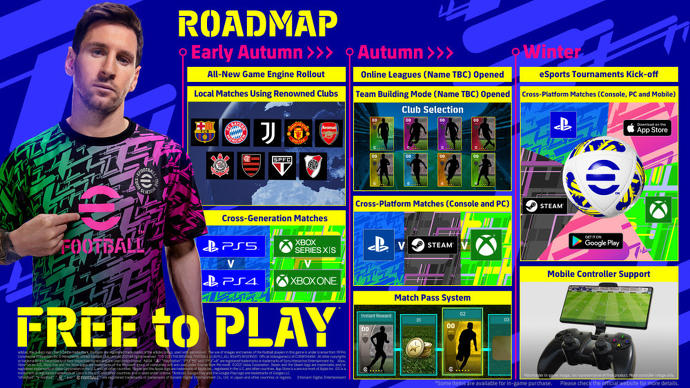 Konami had said it plans to sell individual game modes as optional DLC, "giving players the freedom to build an experience that follows their interests." One of these DLC game modes is Master League, perhaps Pro Evolution Soccer's most famous game mode. Konami has not said how much it will cost.
There also seems to be a Battle Pass mechanic called Match Pass. Konami said Match Pass lets you "nominate and acquire your favourite players". It's all pretty vague at this point, but Konami described Match Pass as "a system to receive items based on matches played". A free and paid version of Match Passes will be available.
There was some uncertainty regarding graphics being downscaled so that the game can function on all devices (i.e. iOS and Android), but Konami has addressed this, saying: "The game will take full advantage of the hardware capabilities of each supported device…We will make graphical adjustments to the mobile version, but the next-generation graphics on consoles and PC will not be downgraded".
eFootball launches worldwide first on PlayStation 5, PlayStation 4, Xbox Series X/S, Xbox One, and Windows 10 and PC via Steam early autumn, with iOS and Android to follow soon after.
For those interested, we have a big sale going on, a summer sale. Use the codes SIZZLE10 (summer)  to access discounts. The discount codes are only valid for the products listed on their respective URLs (linked above). This sale ends 9th August so move fast!
To keep updated with the shop activities and weekly competitions, follow Go2Games on social media:
Instagram: Go2Gamesshop
Twitter: Go2Games
YouTube: Go2games.com
Facebook: Go2Games.com