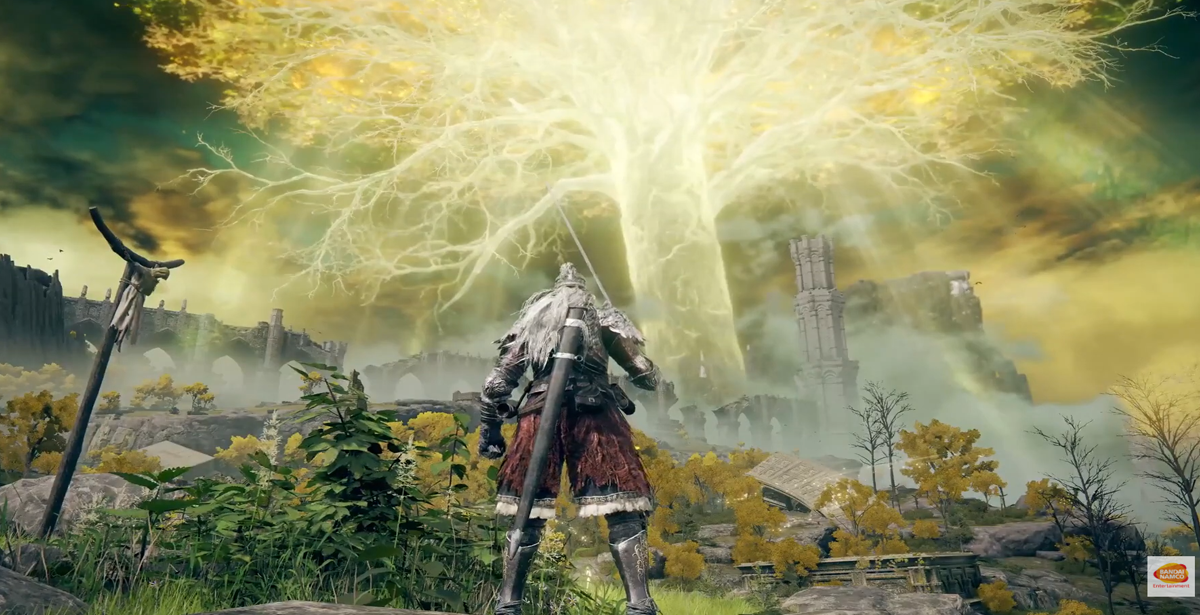 Today FromSoftware gave us our first proper insight into Elden Ring with a 15-minute gameplay stream. We were shown a lot of interesting stuff including the open world, some new mechanics and a few epic bosses that the Soulsborne franchise has come to be renowned for.
Here is the game's footage:
We open with the player in the Lands Between, where we are introduced to the games  bonfire mechanic – Sites of Grace. These act as resting places, as common in any other Souls game. They also produce  'Guiding Light' – the game's waypoint mechanic. These Guiding Lights are meant to give the player a sense of direction. You can choose to follow these guides and take the recommended route or go your own way and explore for yourself.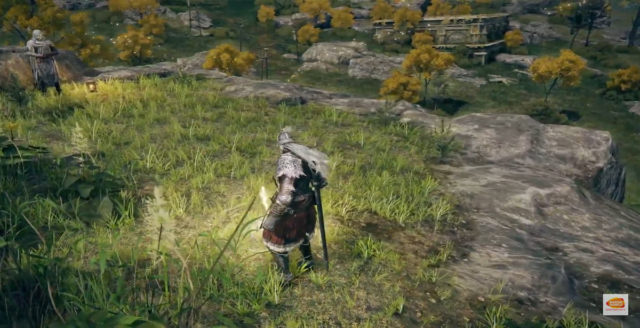 We see the player ride along on the Spirit Horse for a short time, where they encounter some hollow-like enemies and are attacked by a dragon. They use magic from horseback, and then engage the dragon in melee combat. The dragon stumbles after some time, and a visceral attack is performed to finish it for good
We then cut to a cliffside/mountainous area, where we encounter an NPC named Alexander, known as the Iron Fist who asks for our help as he is stuck. He looks like a giant ink-stamp due to the emblem on his… head? In the footage its clear that many fan-favourite weapons make a return, as the player uses the Giant's Club to dislodge Alexander from his trap.
Then the video cuts to another location, and we are shown the world map. The map can be upgraded using Map Fragments. It allows you to set markers for dangerous enemies, locations or materials. You can place beacons that will appear visually within the game world. VGCartography have already stitched together the map from the stream, and so far, it looks great.
#EldenRing quick stitch of the map shown on the gameplay preview. love the artwork on this map! pic.twitter.com/3GiGrTKJJV

— VGCartography (@vgcartography) November 4, 2021
We're shown some more exploration, and the player uses a Spirit Spring to traverse the vertical jump ahead.
Then the footage shows the player traversing through field of lightning bolts in stormy weather. Whether or not these lightning bolts are part of the environment or coming from an enemy is not clear, so it could be possible that the environment itself is against us and proves to be hazardous too.
The player scopes a caravan with treasure and prepares by crafting some items using materials found out in the world. He takes a stealthy approach, stunning the first enemy with an arrow to the back and then stabbing him on the ground. It's possible to break an enemy's stance with heavy attacks. You can interchange a variety of unique attacks between weapons. This suggests there is the possibility of chaining together combos with different weapons.
Elden Ring Introduces Spirit Summoning Mechanic
You can summon minions called Spirits to assist you in battle. There are a great variety of spirits that allows for lots of experimentation. The first one we see is a group of trolls or goblin type creatures. Later in the trailer we see another Spirit which is a pair of skeletons that slam down from either side with a heavy attack. The last Spirit we see is against the boss at the end of the trailer. This final spirit seems to stick around longer and acts as a summon rather than a special attack. This shows there will be some diversity to the types of Spirits we can use.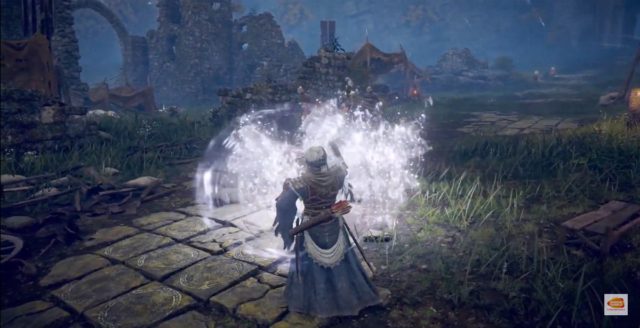 We cut to a broken bridge, where another player is summoned. Co-operative, PVP and invasions make a return. The player jumps over the edge and follows their partner to another woodland area, where they creep through the woods to avoid detection. This shows that stealth is a good option to get past areas of significant danger. They encounter a boss, a giant knight on horseback wearing armour which looks vaguely like that worn by Havel the Rock – maybe the design was loosely inspired by him.
Catacombs and Dungeons
Then we are introduced to one of the many catacombs and dungeons that lie beneath the world. Within the world space there is several catacombs, dungeons and tombs that each hold their own secrets, dangers and treasures.
We see a cut-scene. The player is resting by a Site of Grace, and we meet a character named Melina. She offers to us an 'Accord,' but nothing more is shown. It can be assumed that she is this games equivalent of a Firekeeper from Dark Souls and will serve as a guide or ally throughout your journey.
Stormveil Castle
We then proceed to a castle area where we meet another NPC, who advises us against taking the main gate to the castle and offers an alternate entrance to breach the castle stealthily. They choose not to go through the secret passage, and the NPC offers to open the gate after again advising against it.
After going through the gate, in classic Soulsborne fashion, the player encounters a Ballista lying in wait. They take the alternate route, and we see another set of Spirits, this time a pair of skeletons that slam down from either side with a heavy attack. We come across a variety of knights and other enemies as the player explores through the dungeon. The dungeons in the game are multi-layer and complex, offering players several options to explore and overcome them.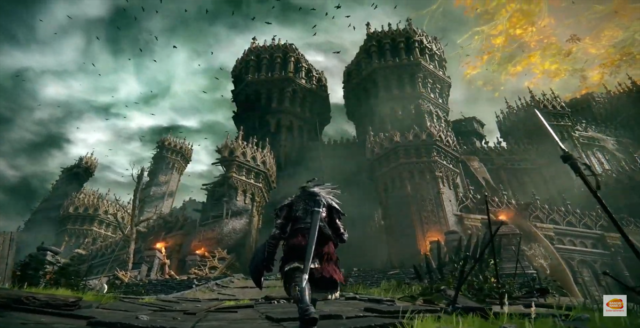 We meet another NPC, Rogier who claims to be a sorcerer searching for something in the castle.
He claims that "Stormveil Castle is full of Tarnished Hunters sacrificing our kind for grafting" – which give some interesting insight into the lore aspects of Elden Ring.
After exploring through the castle they come across a boss – a demi-god named Godrick the Golden.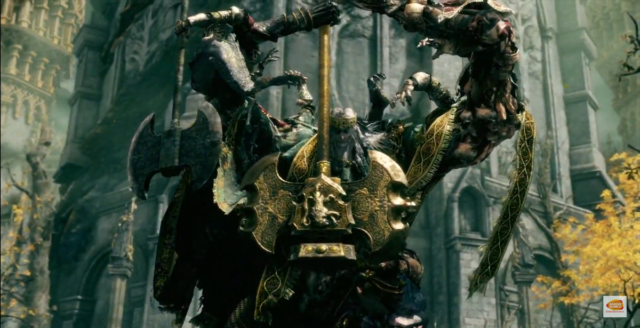 Another cutscene is shown where he asks a dead dragon to 'deliver him to greater heights' – which can have a number of lore implications. Are the enemy of the tarnished somehow involved in dragon worship?
After fighting the boss, the stream ends with the presenter stating that more details will come soon and a short trailer proceeds to play.
So that's the round-up on everything that was in the Elden Ring gameplay footage. Unfortunately, Elden Ring's release date has been delayed until the 25th February 2022. The network test on consoles will take place during limited hours between November 12th and November 14th, with a full time zone schedule being available on the signup website. Applications are now closed however.
Elden Ring is available to pre-order from our store now and will release on the 25th of February 2022.
Don't forget to subscribe to the Go2Games newsletter for updates on the latest gaming news and deals, and follow our socials below!
Twitter: @GO2GAMES
Instagram:go2gamesshop
Facebook: Go2Games.com
Youtube: Go2Games.com
Store: go2games.com