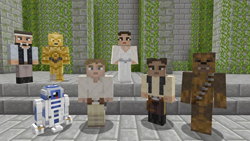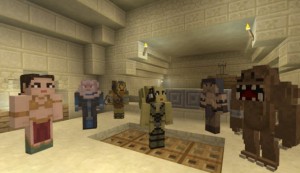 Minecraft for Xbox
Receives EXCLUSIVE Star Wars DLC skin pack
Yesterday, a Star Wars DLC skin pack became exclusive to hugely popular Sandbox game, Minecraft, for Xbox 360 and Xbox One. The official Microsoft Studios Blog is where the announcement was made.
This downloadable content skin pack comes with 55 skins from the classic Star Wars films, Episodes IV to VI. The full list of skins will be listed below, but the pack includes Luke Skywalker, Princess Leia and Hans Solo. 
 Microsoft also happened to state that players can "look forward to even more downloadable Star Wars content releasing in the future.", so this won't be the last SW themed content pack!
What a wonderful selection of skins you have to enjoy, and here they all are!…
Luke Skywalker, Tatooine
Luke Skywalker, X-wing Pilot
Luke Skywalker, Bespin
Luke Skywalker, Hoth
Luke Skywalker, Dagobah
Luke Skywalker, Endor
Luke Skywalker, Jedi Knight
Han Solo, Smuggler
Han Solo, Hoth
Han Solo, Endor
Chewbacca
Princess Leia Organa, Senator
Princess Leia Organa, Yavin 4
Princess Leia Organa, Hoth
Princess Leia Organa, Bespin
Princess Leia, Jabba's Palace
Princess Leia Organa, Endor
Tusken Raider
Stormtrooper
Darth Vader
Blockade Runner Soldier
C-3PO
Ben Kenobi
Cantina Band Member
TIE Fighter Pilot
Walrus Man (Ponda Baba)
Hammerhead (Momaw Nadon)
Greedo
Governor Tarkin
Lando Calrissian, Bespin
Boba Fett
Bossk
Dengar
Zuckuss
IG-88
Emperor
AT-AT Pilot
Lobot
Rancor Keeper
Gamorrean Guard
Lando Calrissian, Skiff Guard
Princess Leia Organa, Boushh
Oola
Nien Nunb
Bib Fortuna
Scout Trooper
Emperor's Royal Guard
Admiral Ackbar
R2-D2
Yoda
Jawa
Wampa Ice Creature
Wicket W. Warrick
Rancor
4-LOM