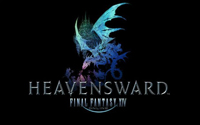 Final Fantasy XIV Heavensward
An expansion has been announced for Spring release!
Some exciting news for a Monday afternoon! Square Enix have announced the first expansion pack, Heavensward, for it's MMO Final Fantasy XIV. This is set to be available in the spring of 2015.
The game will receive a brand new playable race, although it is not specified (as game director Naoki Yoshida has exclaimed). All we know is that it is not Viangaa, which was previously rumoured. Players will also be able to build their very own airships (I've always wanted one!) and explore such places as "Ishgard and beyond". Also including new huge open areas.
The expansion will focus on a thousand year conflict between Ishgard and Dravania (known as the Dragonsong War) in which those playing will have to end. Square Enix have stated that will reveal more about the new expansion this Saturday 25th October at the London Fan Festival!
You can watch the teaser trailer to Heavensward HERE.