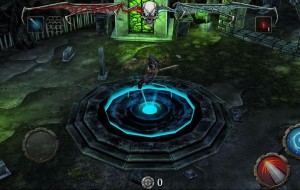 Hail to the King: Deathbat
The brand spanking new game for iOS and Android by American metal band, Avenged Sevenfold!
Avenged Sevenfold are an excellent band and they've just opened a whole new can of excellence with this jolly good game!
The game, Hail to the King: Deathbat, is available TODAY on iOS and Android for a mere $5 and has been principally developed by Subscience Studios. It has been in development for over two years and is finally available to play!
Lead singer, M. Shadows, has said that this is "A game for our fans who love games as well. We decided to create this adventure with a nod to our favorite games growing up," Shadows said. "No hand-holding here, no fluff, just a hard, badass game that lets you discover the story of the Deathbat." They had seen fans play mobile games whilst they were on tour and decided to create their own. A wise decision!
Once the mission ends, according to Kotaku, the cave will become inaccessible. This means that the players will have to keep quitting the mission in order to keep the exploit open. 
Deathbat features seven (but of course) "hellish landscapes" to explore, which are inspired by the band's artwork and discography. The track "Unholy Confessions" is one of their more popular tracks which is featured in the game and can also be heard on the trailer HERE. Amongst this, the game has an original score which is said to be inspired by games such as Castlevania.
In a nutshell, Deathbat is an "epic" tale that follows Deathbat, a "resurrected king of the underworld" who must "reclaim the lands of Hades from the despotic Dark Andronikos".
Well this all sounds very dark and gloomy… How exciting!!