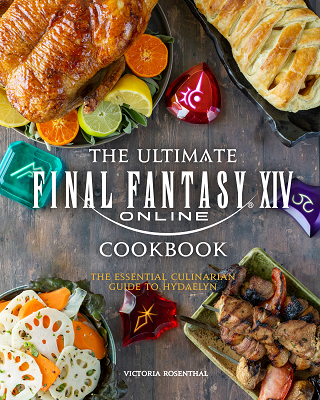 Final Fantasy CookBook Scheduled To Release 9th November 2021
Exactly one month ago, Twitter user Wario64 reported directly from the Simon & Schuster website, that there was a Final Fantasy XIV Cookbook listed to be released. Soon after this, the title had been changed which lead many fans to believe it was just a rumour or simple mistake.  Despite the publishing house quickly removed the name and changed it to "Licensed Video Game Cookbook." that didn't stop fans from talking about it. However, Square Enix proudly announced that The Ultimate Final Fantasy Cookbook is coming on the 9th of November.
Featuring favourite flavours from across Hydaelyn and Norvrandt with easy-to-follow instructions, this tome provides numerous tips on how to make the most of the ingredients involved. If you're interested in experiencing the gastronomical delights Hydaelyn has to offer, you will not want to miss out!
Browse through recipes such as the farmer's breakfast, knight's bread, and rolanberry cheesecake—there's bound to be something you'll want to try! (Square Enix Final Fantasy XIV site)
Food has become very popular in the video game culture, as I've said previously, food is something we all connect to on an emotional level, mental, physical and even spiritual. The fact that Square Enix is putting so much love into their well known Final Fantasy cuisine, says a lot about the experience they want to give their fans, making their video games all the more immersive.
Square Enix have also said that the key features of the cookbook include:
Exclusive foreword written by Producer and Director Naoki Yoshida.
Perfect for every home cook with step-by-step directions and beautiful photos, learn to make iconic in-game foods, bringing the lush culinary landscape of FINAL FANTASY XIV Online to life.
Recipes for every occasion, from quick snacks you can enjoy while exploring Eorzea to decadent desserts and meals fit for royalty, this book contains recipes for both simple and celebratory fare.
A stunning addition to your collection. This exquisitely detailed hardcover book is the perfect acquisition for your kitchen library-a must-have for every FINAL FANTASY fan.
To keep up with all the latest gaming news, competitions, future discounts and amazing content head to-
Twitter: @Go2Games
Instagram: @go2gamesshop
Youtube: Go2games.com
Facebook: Go2games.com
You can subscribe to the Go2Games newsletters via the website.