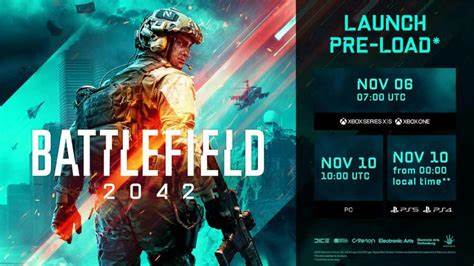 The official Battlefield site recently posted a blog where EA states that the battlefield launch is "only the beginning" with a "commitment to new content." This particular post states to players that Battlefield 2042 will be first launching in 2022.
Whilst EA have not released an exact start date for the game, we have been told that when the game does start, players can expect a new Specialist Battle Pass and Portal content and potentially even gain some new sights to see as the story of Battlefield  2042 continues to unfold.
The post does not go into much more detail than this, however it does state that further details shall be released closer to the release date in 2022. When the game gets released this month, players will be able to have access to the pre-season. The pre-season consists of weekly missions and rewards as well as limited time modes and "experiences in Battlefield Portal."
What Can Players Expect?
As Battlefield 2042's first season does not start till 2022, EA already has the games first year of live service content planned. Over the course of the year 2022, there will be a total of four seasons. Each of these seasons will include 'four new Battle Passes, four new Specialists and all new locations alongside with fresh content.' Players have also been promised, by EA, that they can expect continued updates for Battlefield Portal which will "give players more ways to build and share new battlefield experiences with the world."
EA play members will be able to play the free trial of Battlefield 2042 on November 12th 2021. EA delayed Battlefield 2042's release date from October 22nd to November 19th, in mid-September. Despite this, players who have pre ordered the Battlefield 2042 Gold and Ultimate editions will receive access to the full game one week ahead of its release date.
It is now possible to pre order a copy of Battlefield 2042, however there are a few different dates for when you will actually be able to start playing the game.
Don't forget to follow us on all our social media and subscribe to our Youtube channel and newsletter.
Instagram: Go2GamesShop
Twitter: Go2Games
Youtube: Go2Games.com
Facebook: Go2Games.com
Store: Go2Games.com