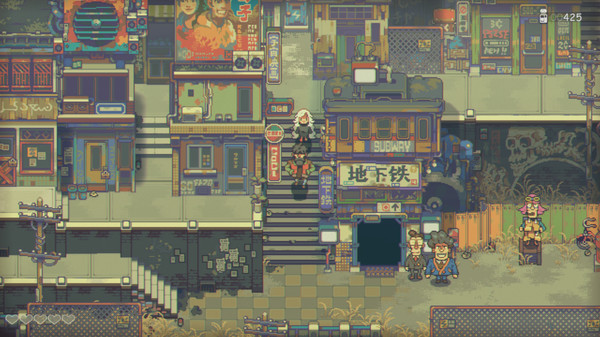 Garden Story Released 11th August & Easterward Planned To Release 16th September
Nintendo host a live Indie World Showcase yesterday, the 11th of August 2021 with announcements of Garden Story that was released yesterday and Easterward to be released this September on the 16th. If you don't know, Nintendo's Indie World Showcase is an online event where they announce upcoming Indie games on the Nintendo Switch, these have become increasingly popular amongst Nintendo Switch Lite users and most of these games can be played in handheld mode. Most will be happy to know that they can play Garden Story and Eastward on their Switch Lite.
1. Garden Story
First up, we have Garden Story. Developed by Picogram Art, this adorable pixelated game starts off with the protagonist named Concord, a young grape, the youngest grape who becomes a guardian and is their duty to protect and restore the island. It's a lot for a little grape who's just about ripe. Many inhabitants doubt Concord's ability but luckily they have friends like Rana, Elderberry and Fuji there to help. With them on your side, it'll be a breeze to take on the dangerous Rot…hopefully. You can read about it more on Steam. With a trailer below.
Did you see the special surprise in the @NintendoAmerica @NintendoEurope #IndieWorld showcase this morning?

Garden Story releases on Steam and #NintendoSwitch TODAY at 10AM PDT! 🍇

✨ Steam: https://t.co/QHUKHXigkt
✨ Nintendo #eShop: https://t.co/zKRlmRvp3J pic.twitter.com/XvRVDXmVO7

— Garden Story (@gardenstorygame) August 11, 2021
2. Eastward
Up next is Eastward another pixelated, aesthetically pleasing adventure game, developed by Pixpil. Society is collapsing and the human population is decreasing. A 'deadly toxic presence' has spread across their land, destroying everything. As said by Pixpil themselves "Escape the tyrannical clutches of Sandfill's subterranean society and join Eastward's unlikely duo on an exciting adventure to the land above! Discover beautiful yet bizarre settlements and make new friends as you travel across the world by rail." If you're curious, have a look at the game trailer below.
The wait is (almost) over!#Eastward will be available on September 16th.
Pre-order now on Nintendo eShop or Steam.

Check out the full release date trailer here:https://t.co/yDIYsqY2XN

— Eastward (@eastwardgame) August 11, 2021
Keep up with all the latest gaming news, competitions, future discounts, and amazing content.
Twitter: @Go2Games
Instagram: @go2gamesshop
Youtube: Go2games.com
Facebook: Go2games.com
You can subscribe to the Go2Games newsletters via the website.