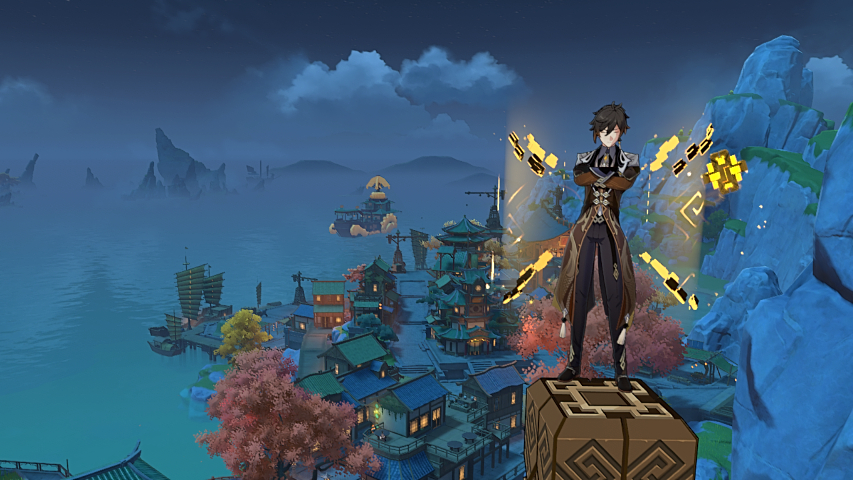 Genshin 2.5 is set to arrive in mid-February, and leakers are sharing plenty of info from the beta tests.
Anti-shield enemies could be pretty meta-changing. With the introduction of corrosion, MiHoYo has quite obviously been trying to push healers into the meta – and effectively push shielders out. Previously, there was almost no need for a healer if you had a good shielder. Now, corrosion can bypass shields and essentially necessitate a healer in your team.
Shadowy Husk: New type of enemy with three variations (Standard Bearer, Line Breaker, and Defender), to be added to Spiral Abyss and Hyakunin Ikki.

When their attacks land on a shield, these enemies will generate shield or heal nearby Shadowy Husks.

— Genshin Intel (@Genshin_Intel) January 5, 2022
The Shadowy Husk Monsters, possibly joining Genshin Impact in version 2.5, would essentially punish you for using a shield by gaining a shield of their own upon hit or healing nearby Shadowy Husks. Since it's generally impossible to get by without a shielder or a healer, this pushes you to use a healer instead.
This is pretty detrimental to ME PERSONALLY, an Arataki Itto main who relies heavily on the damage bonuses provided by shields plus geo resonance. Pushing healers into the Meta is fine, but now they're essentially nerfing an already struggling element. If you're going to do this, MiHoYo, then you should also create more situations where it is beneficial to have a shield and use geo characters, so that characters like Zhongli aren't completely pushed out of the Meta.
This would make a lot of sense since it is quite evident that Kokomi may be getting a rerun soon.
https://twitter.com/SaveYourPrimos/status/1478753772939608068?s=20
I am a little fed up with the way MiHoYo are moulding the Meta to fit Kokomi, at the cost of the Geo element which already has a tenuous relationship with the meta. I do like Kokomi's character, but I don't want a situation where players feel forced to pull for an OP healer character, when their accounts may not synergies with it (AKA you're a geo main or already main another character who can heal). It's also a bit frustrating to see her getting a rerun fairly soon – she was originally run in September 2021 – when we are still waiting on reruns of characters that haven't been seen in almost a year. But MiHoYo have done it before with Childe, so it won't be too much of a surprise.
Please… please… I just… I just want a Kazuha rerun… it's not funny anymore….
Genshin Impact is available to download and play for free on PC, mobile, and PS4, as well as the PS5. If you haven't been able to get your hands on the new PlayStation console, register your interest at our shop.
Sign up for our newsletter from the website.
Instagram: Go2GamesShop
Twitter: Go2Games
Youtube: Go2Games.com
Facebook: Go2Games.com
Store: Go2Games.com