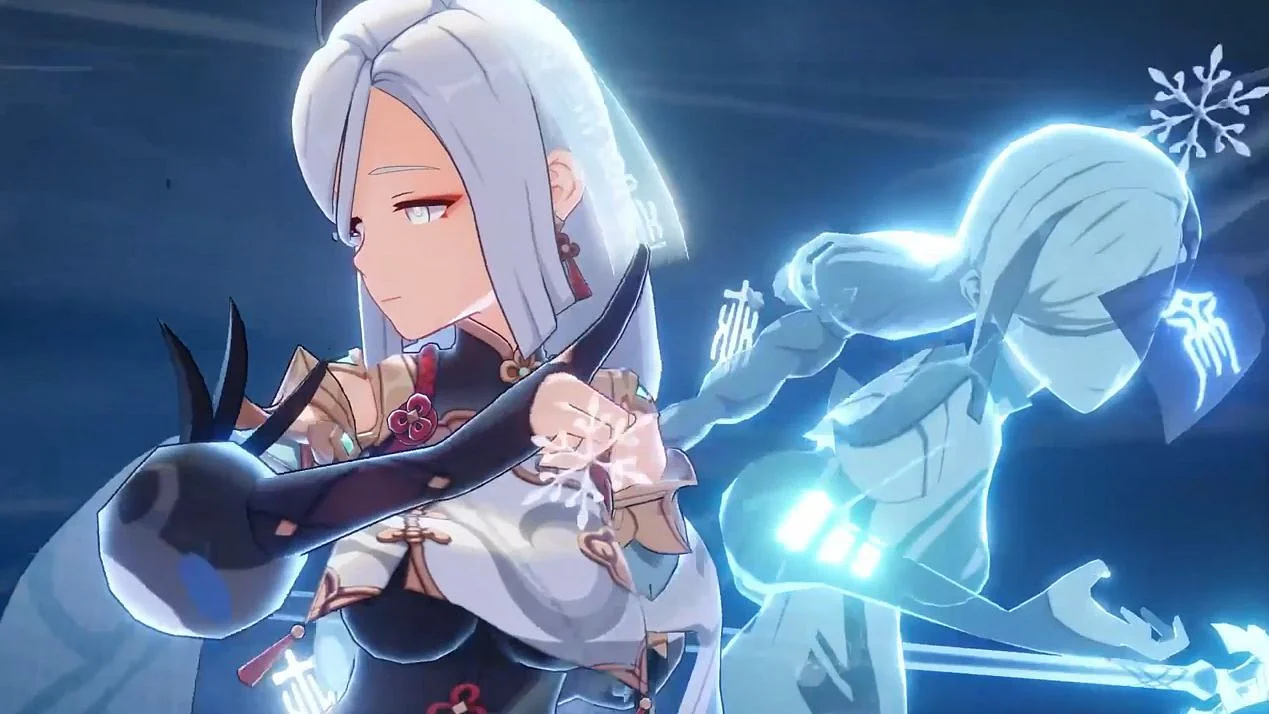 Genshin Impact 2.4 is well underway, with the arrival of upcoming 5 star Arataki Itto just a week away.
As always with Genshin, eyes are well ahead, and excitement for the next 5 star, Shenhe, is ramping up.
YouTuber ZHiN Moe has shared a six minute clip showcasing Shenhe's idle animations, Elemental Skill, and Elemental Burst. The Cryo wielder can be seen striking the air with her polearm, before dashing forward with her Spring Spirit Summoning.
While the DPS units of Genshin Impact tend to generate more hype, Shenhe has already drummed up a lot of anticipation despite her support-based kit. There's already a Reddit community surrounding her.
Overall, Shenhe can do some cryo damage while buffing her team members, especially cryo damage. This should make her a decent support for characters like Ganyu. For those who want a more detailed look at her leaked kit, I've pasted the details below.
Shenhe Talents
Precise Comings and Goings: Gains 25% more rewards in Liyue Expeditions that are longer than 20 hours.
Deific Embrace: An active character within the field created by Shenhe's Elemental Burst / Q will get a 10% Cryo DMG bonus.
Spirit Communion Seal: Shenhe will buff party members when using her Elemental Skill / E.
Press: Increases Elemental Skill and Burst DMG by 15% for 10s.
Hold: Increases Normal, Charged, Plunging Attack DMG by 15% for 15s.
If Shenhe uses her skill again when the effect is still active, it'll reset the timers.
There have been mixed responses to the leaks of Shenhe's kit. Many feel that this is not impressive enough for a 5 star support character, especially considering that there are better 4 star options like Bennett who can provide huge team buffs.
But, until she's officially released, we can't ascertain the limits to her capabilities. One thing is for sure, and that's that her gorgeous design will already entice some players to go for her.
Genshin Impact is available to download and play for free on PC, mobile, and PS4, as well as the PS5. If you haven't been able to get your hands on the new PlayStation console, register your interest at our shop.
Use code FAMILYGAMES before December 20th for 5% off Sonic Colours Ultimate and Super Monkey Ball Banana Mania Launch Edition, available on all platforms.
Sign up for our newsletter from the website.
Instagram: Go2GamesShop
Twitter: Go2Games
Youtube: Go2Games.com
Facebook: Go2Games.com
Store: Go2Games.com