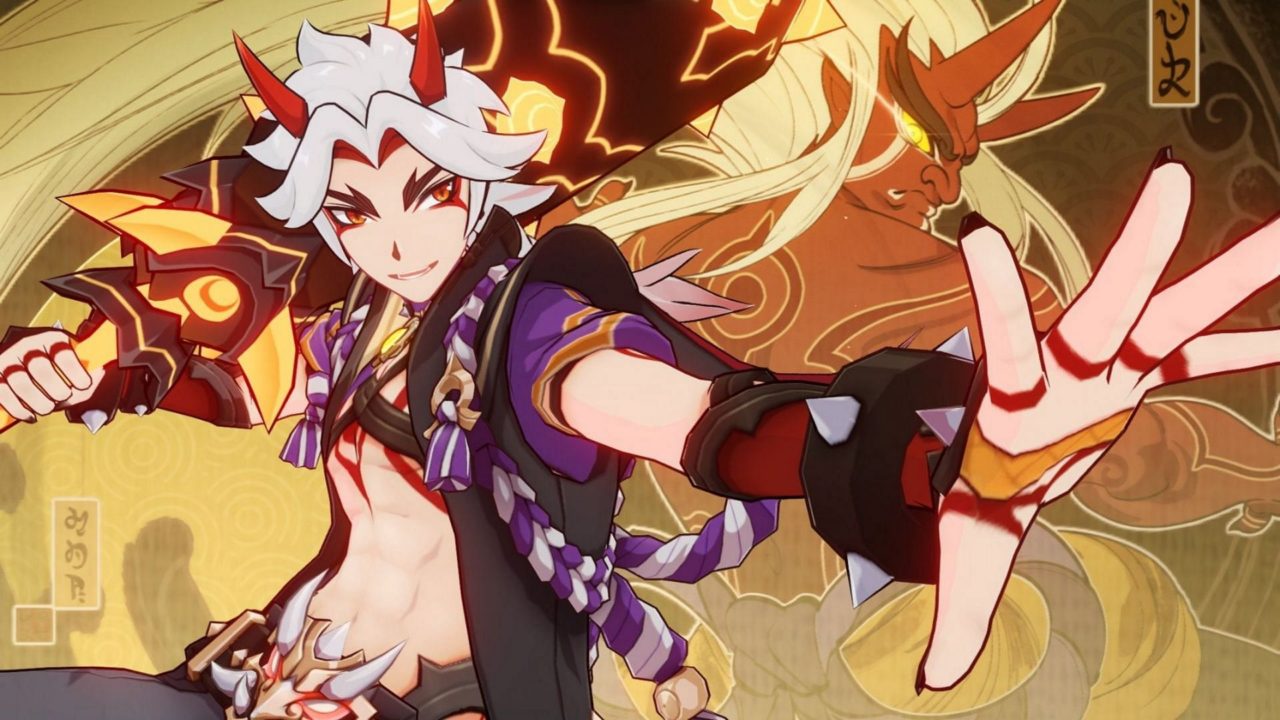 Genshin Impact's 2.3 livestream contains all you need to know about Itto's kit.
The banner of the highly-anticipated Arataki Itto has almost arrived. We finally got a proper look at him and Gorou, along with the 2.3 announcements for Genshin Impact.
In this part of the live stream, Itto's English VA, Max Mittelman, explains how his kit works. First, obviously, he is a claymore-wielder who holds a geo vision – much like Noelle.
His second and fourth attacks grant him stacks of Superlative Superstrength. His elemental skill and sprints keep his normal attack pattern from resetting, making it easier to manage your stacks. The Superlative Strength stacks will allow him to do charged attacks without using stamina, consuming the stacks. The consumption of his final stack will boost the power of that specific attack. You can, of course, do charged attacks without stacks, consuming stamina and not reaping any of the benefits of the stacks. However, after you unlock his talent, Arataki Ichiban (literally meaning Arataki Number One) consecutive charged attacks will increase his resistance to interruption and boost his attack speed. The following talent, Bloodline of the Crimson Oni, will boost his charged attacks by his defence.
His elemental skill has him hurling a cute cow called Ushi. It seems Ushi will do initial damage when thrown and will grant Itto stacks when he is put on the field. He also gives Itto one last stack before he dips; nice! Ushi is considered a geo structure and will stick around to taunt enemies, basically granting you more stacks. He'll hang about until his HP hits 0 or his duration ends. I wonder if he'll resonate with Zhongli's pillar?
Itto's burst allows him to enter his Oni King form. This will convert all his attacks into Geo damage and cannot be overridden – so you can use him with C6 Bennett, no problem. It will also make his first and third attacks (instead of his second and fourth attacks) grant him his Superlative Superstrength stacks. Kind of a random change, but alright! His elemental and physical resistance will drop during his burst, but he'll boost his attacks based on his defence as well as an attack speed increase. He should be fine if he's got high defence and shielding party members helping him out, anyhow.
Lastly, his exploration talent will get you more wood when Itto's in your party. Pretty simple!
He seems like a character who can be played meticulously with careful management of his stacks, or the more casual player can just go crazy hack-and-slashing without thinking too much about it. He seems really fun to play, and I love his character design and voice lines. The idle animation of him combing his hair is top tier, too. What a loveable rogue.
In other news, here is a complete summary of Genshin's 2.3 livestream, with primo codes, event and weapon info!
Genshin Impact is available to download and play for free on PC, mobile, and PS4, as well as the PS5. If you haven't been able to get your hands on the new PlayStation console, register your interest at our shop.
Sign up for our newsletter from the website.
Instagram: Go2GamesShop
Twitter: Go2Games
Youtube: Go2Games.com
Facebook: Go2Games.com
Store: Go2Games.com