Meet the fearsome leader of the Arataki Gang, who spends his time collecting bugs and playing games with the local kids
I meant to write something, but my head empties when I look at Itto's character image… what was I going to say? Give me a minute.
Right, so. Itto. He's the first male character in Genshin Impact we've seen that doesn't fit the bishounen (pretty boy) image. He's bringing a more typically masculine appeal to Genshin, and fans are eating it up.
Itto's personality, which so far we can only gather from other characters dialogue about him, seems to fit his image. In short, he's a musclehead who likes to engage in silly debates with Kujou Sara via notice board. He wants to train Onikabuto (stag beetle-like creatures) to fight, and despite being the head of a gang, he spends most of his time playing games with the kids of Inazuma.
I'm a big fan of the himbo archetype, so I'm already doing calculations to work out how to save enough primogems for this loveable brute.
(I can't add usually, but when it comes to Genshin, I'm suddenly a maths whizz.)
The hype around this character has been building since a leaked image of his character model started circulating on October 5th.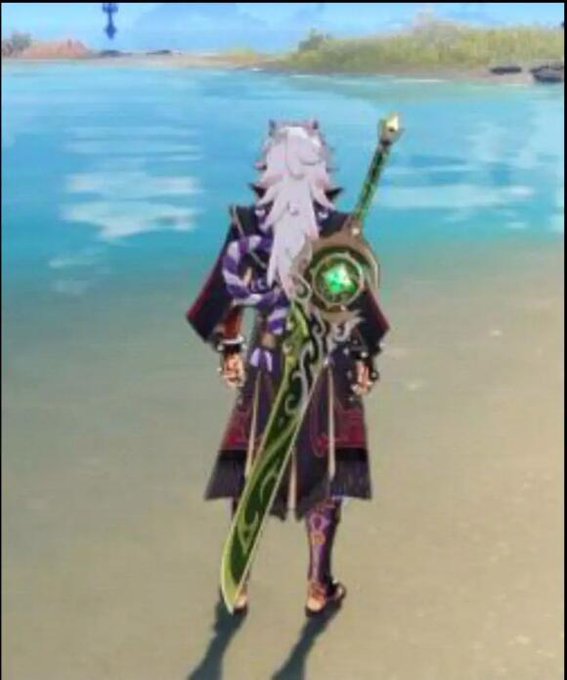 Though it only showed the back of his character, many players were excited by his seemingly large stature, and people started making fanart before we had even seen his face!
Genshin officially announced the character on October 11th.
Arataki Itto ‧ Hanamizaka Heroics

The First and Greatest Head of the Arataki Gang

Fast as the wind and mighty as thunder, he is an intrepid man with Oni blood running through his veins.#GenshinImpact pic.twitter.com/YotIulzlYp

— Genshin Impact (@GenshinImpact) October 11, 2021
The announcement came as a surprise and is perhaps an effort on miHoYo's part to beat leakers to the punch. The tactic seems to have worked, given the massive excitement surrounding Itto already and the copious amounts of fanart I've seen on Twitter.
Some players are voicing their worries that Itto will have the same skinny model as Childe, Zhongli, Kaeya etc., despite being advertised as a beefcake in the official art. I have to say, I do share this concern. It would be really great to see a more diverse selection of character models in Genshin.
However, miHoYo may be able to make him appear buffer with design elements while maintaining the same model – think how Kaeya appears broader than Childe thanks to his shoulder-wear and… cleavage.
Everything we know about Itto – and his competition…
We've already discussed Itto's appearance and personality – AKA what makes him appealing on a personal level – but what about gameplay and lore?
We don't have a whole lot to go on here: essentially, all we know is that he belongs to the Geo element and is a claymore-wielder. Sound familiar? That's because we already have a character that fits that bill: Noelle.
The adorable maid to the Knights of Favonius is basically guaranteed to all players through the beginner's wish banner. Not only that but she's made frequent appearances on rate-up over the past year. A lot of players have a lot of constellations on her because of this, myself included. And let me tell you, C6 Noelle is a monster. Not only does she offer exceptional support capabilities (both shielding and healing), but her crazy burst provides a lot of DPS as well.
Right now, we have no clue as to whether Itto will be a support-focused or damage-focused character. I'm leaning towards assuming the latter because Noelle really does have the support role covered, along with Albedo and Zhongli. Despite it being more defensive, Geo is my favourite element, so I would be thrilled to see a Geo 5 star who can output some crazy raw damage. It's been a while since we've seen a new hypercarry character, so who knows? Then again, quick-swap teams have been overtaking the META.
One small glimmer of hope is the weapon that Itto dons in the leaked image. It appears to be from the Jade line – a series of offensive weapons with crit rate substats. If the BETA player was using this weapon on him, and it matches the Jade Cutter and Spear in terms of stats, then that would suggest he has offensive capabilities.
Let's just hope we don't end up with another Kokomi vs Barbara debacle with Itto vs Noelle.
Another neat tidbit about Arataki Itto is that he's part Oni, similar to characters like Ganyu and Yanfei, descendants of Adepti. Unlike these two government officials, though, Itto leads a far more… chaotic lifestyle.
As much as I'm enjoying the current event dedicated to Childe, an all-time favourite of mine, it feels like it's been ages since I got my hands on a new limited 5 star, so Itto cannot get here soon enough!
Sign up for our newsletter from the website.
Instagram: Go2GamesShop
Twitter: Go2Games
Youtube: Go2Games.com
Facebook: Go2Games.com
Store: Go2Games.com
Before you go: grab these voucher codes for use at Go2Games!
These offers end on October 18th
Use HARVEST5 for 5% off Monster Harvest!
Use WRC10 for 10% off WRC10 on all platforms!