Here's everything you need to know about the Knights of Favonius' Chief Alchemist.
Way back in the day, not long after I got into MiHoYo's hit game, Genshin Impact, a shiny new 5-star named Albedo hit the scene. I was infatuated. I saved up as many primogems as I could, but alas… I pulled Qiqi. I may have cried, I am not certain. But what I did do for sure was swipe that plastic so I could get enough primogems to pull Genshin's first proper ~pretty boy~. And so began my spiral into gacha hell.
I was among a minority, however. Albedo's banner suffered some lacklustre profits. It wasn't his fault, no. The alchemist had the misfortune of being sandwiched between Zhongli and Ganyu. Zhongli, first of all, had been a colossal disappointment. People thought the geo lord would bring the pain, but actually, he served a more defensive role. This was before the buffs to him and the geo element (after which Zhongli basically made you invincible as hell).
People weren't exactly eager to pull for another geo 5-star after that debacle. And then there was Ganyu to follow, a very highly anticipated DPS character.
Of course, I didn't give a hoot about all that nonsense. I just wanted Albedo because pretty.
But, oh, was I lucky to be an Albedo wanter at the time – because Albedo made them ALL regret skipping his banner.
Albedo is one of, if not THE best, sub-DPS in the game. And, on top of that, he takes away 0 field time from your DPS. You basically just whack his flower on the field, and bam. He can do 10k-ish damage every few moments while he's not even there. Plus, he gives a home to the defence artefacts you don't want, turning them into considerable damage with little investment. His burst does okay damage, nothing special (thanks to his low base attack), but it does grant a nifty Elemental Mastery boost that's much easier to manage than stacking like 600 EM on Sucrose.
Have I convinced you to pull for him in his upcoming rerun? If so, read on for more details and a handy build guide, by yours truly.
If not, here's some gameplay demonstrating how his skill works – because clearly, you don't understand how useful he is!!!
Here, Albedo's skill is triggered by Zhongli's pillar, which also resonates with Albedo's flower to allow for a larger area where damage can occur. Albedo's skill hits for 9 and then 10k while he is off the field. Here, he is also benefitting from Geo resonance and Zhongli's resistance shred. Without those, I find he usually hits around 8k. I've also prioritised consistency with an 80% crit rate and 140% crit dmg, but other players might take his crit dmg higher. This is a pretty low investment level 80 Albedo, using a 3-star weapon. I'll go more into why that is later!
It was announced a while back that Genshin Impact 2.3 would feature two new geo characters: Arataki Itto and Gorou. Many speculated that 2.3 would be all about geo, and we'd finally get that long-awaited Albedo rerun (for you silly geese that skipped him!). The announcement program hasn't aired just yet, but the inclusion of Albedo and his VA make it… pretty obvious. Even Albedo's English VA commented on it with some lighthearted sarcasm.
i wonder what they are gonna announce https://t.co/hHteVKQKnJ

— Khoi Dao (@khoidaooo) November 10, 2021
So yeah – Albedo is coming in 2.3, which should launch November 24th. But don't fret, I'm here to prepare you!
Weapon
Albedo is probably the most accessible 5 star to build for several reasons. Since his base attack is irrelevant to his skill (it scales from his defence), he is one of the few characters who can fully utilise a 3-star weapon without any problem. Albedo players' usual weapon of choice is the Harbinger of Dawn.
Yeah, it has a super low base attack that isn't going to do much for your burst. BUT – it packs a massive 42.7% crit dmg at level 80 – that's much more than the Blackcliff Longsword. Albedo is one of the only characters who can easily maintain the passive and get a tidy 24% bonus crit rate, too. You'll definitely want to R5 this weapon, so hopefully, you haven't cannibalised all the ones you got from the gacha system. Your HP shouldn't be dropping below 90%, as you'll just quickly swap Albedo in to put down his flower and swap him out again. To be on the safe side, you can make sure you have a shield up when you do this. You should get plenty from his crystalise reactions. Also, yes – 3-star weapons require less upgrade material than 4 star and 5-star ones, so it's super quick to build.
If you are worried about losing that passive or want to use him more actively, the Black Sword from the Battle Pass works fine. Another good option would be the Festering Desire if you were around when it was available via Albedo's event. This is also a good option if you want to take him to the abyss at the moment because the corrosion effect is messing up the passive of the Harbinger of Dawn. The other advantage of this is that… boy can take a HIT! Don't forget that not only does his damage scale with his defence, but he'll be super-ultra-durable on the battlefield.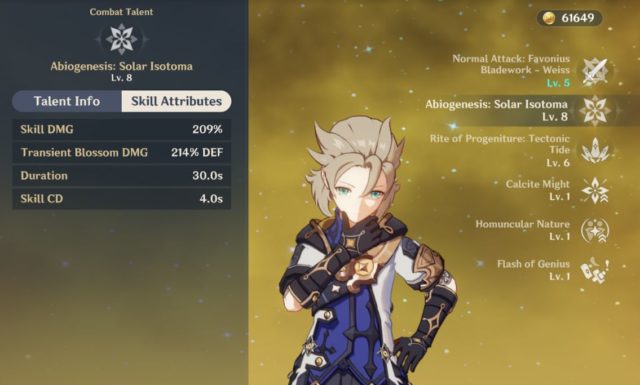 Artefacts
When it comes to Albedo's artefacts, defence is the name of the game. He's highly flexible regarding set, and I'm currently running a half-broken set on mine. You could use 4 piece noblesse to give your team an attack boost with his burst, or 2 piece noblesse and 2 piece Archaic Petra for a geo damage bonus. Any other flexible 2 piece bonuses, such as the energy recharge bonus, will do either. There isn't a defence boosting set available in the 5-star range right now, so anything's game, honestly.
For his timepiece, defence is a must. As for his circlet, you'll probably want crit rate (or crit damage, if you're not using harbinger and have enough crit rate elsewhere), but defence can work here as well. Lastly, you'll want a Geo DMG bonus goblet – but again, you can make defence work too. Like I said, he's super flexible. Defence will be your first priority if you're using the conventional set-up with crit circlet, etc. Otherwise, you can prioritise defence, then crit rate and dmg. If you really want the EM boost from his burst, you can try to fit energy recharge substats in there too, but I doubt it'll be necessary.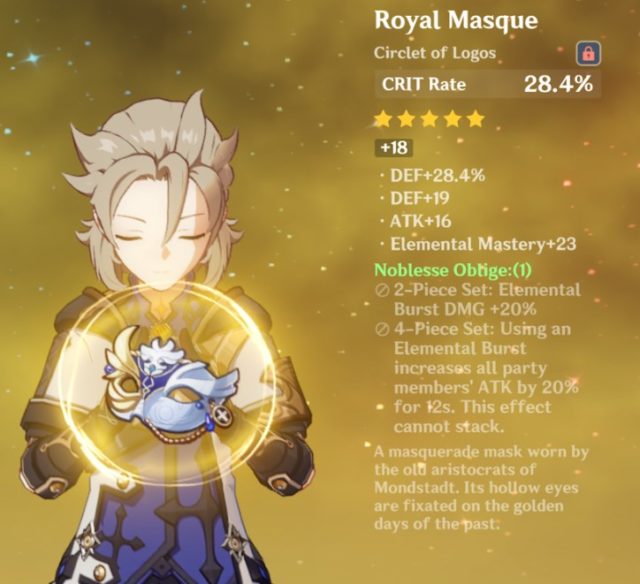 Here, I've managed to find a crit rate circlet with a nice chunk of defence. By utilising my artefacts that rolled into defence (which is usually a bummer for your DPS characters), I could stack up to 1,800 defence. Pretty nice! I've seen players stacking way more defence and crit rate/dmg on him, but it really depends on how much resin you're ready to sink into his build.
Team compositions
Any.
Seriously. He easily slots into almost any comp as a sub DPS.
That aside, he especially stands out when he's partied with other geo characters. This allows them to both capitalise on geo resonance. He's also going to perform best with characters that can do a lot of AoE dmg. The wider the spread of the damage, the more Albedo's skill can proc. A very F2P friendly duo is him + DPS Noelle. Her skill gives her a lot of AoE. He should also work well with Itto.
Characters from other elements that work well with him are, again, characters with good AoE. One notable character would be Xiao. Albedo's flower has a huuuuuge radius, so even Xiao won't knock the enemies out of it too often. Apparently, Itto will also have great synergy with Albedo. Pretty unsurprising, given their side-by-side banners.
Now you have all the knowledge you require to get the most dmg out of this gorgeous, beautiful, stunning alchemist.
Genshin Impact is available to download and play for free on PC, mobile, and PS4, as well as the PS5. If you still haven't been able to get your hands on the new PlayStation console, register your interest at our shop.
Sign up for our newsletter from the website.
Instagram: Go2GamesShop
Twitter: Go2Games
Youtube: Go2Games.com
Facebook: Go2Games.com
Store: Go2Games.com