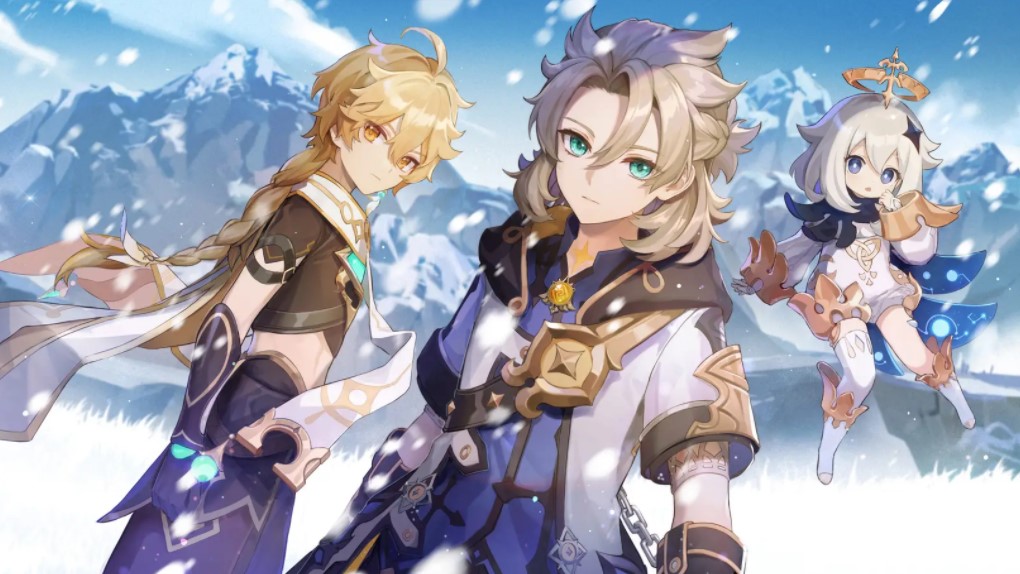 Genshin Impact announces a new rerun banner structure with a new pity system.
Alright, alright – let's get the primo codes out of the way.
KB6DKDNM7H49
BSNDJC747Z7D
AS7CJDP4NG7H
Make sure to use them ASAP as they expire like yoghurt left in the sun!
Now you've got your primo fix, I'm here to give you the rundown of all the new events coming to Genshin Impact in version 2.3.
But first, let's talk about the new banner and its pity system!
By this point, we've seen a lot of new characters in Genshin Impact, and waiting for reruns has been getting more and more painful. From 2.3 onwards, two rerun banners will be running at once to speed things up! This will kick off with a double Albedo and Eula rerun banner.
The way it works is: two separate banners that share pity. You could do 50 pulls on the Eula banner, then another 40 on Albedo, and you would reach your guarantee (giving you a 50/50 chance of getting Albedo). This also applies to the four-star pity system. MiHoYo shared all this information on HoYolab.
I'm hoping this means that Ganyu will be on her way soon….
Story
Genshin fans are in CHAOS after seeing the new trailer.
First of all… BENNETT IS COMING!!! It seems my nagging for more Bennett content in every one of MiHoYo's surveys has finally paid off. Bennett, along with Amber, Eula, and Aether, appears to be in combat with Albedo. It seems like we're finally going to get some more light shed on Albedo's lore – perhaps his fears of destroying Mondstadt are becoming reality… honestly, the trailer gave me chills!
There's also, of course, Itto's character story! He seems to be shaping up to be a super fun new character, and his addition (along with Gorou) is going to make all geo teams even more powerful! As well as that, we're getting two new Hangouts. One with Gorou, and one with the ferocious (but gorgeous) Captain Beidou.
New Boss
2.3 is also bringing a brand new boss for us to challenge: The Golden Wolflord. This guy looks as intimidating as he sounds, and like the smaller versions of him you've no doubt ran into all over Inazuma, he drains your party's HP with corrosion effect. When its HP drops to a certain level, it will be able to summon shields. But, at a later stage in the fight it has decreased resistance to geo – so maybe go nag your geo main friends to join you in co-op for this one.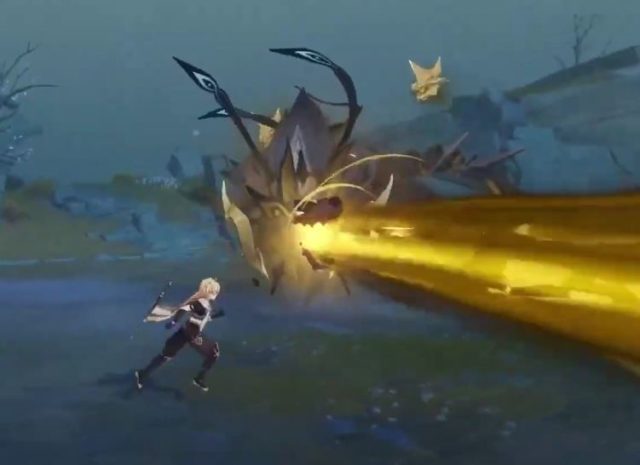 Weapons and Artefacts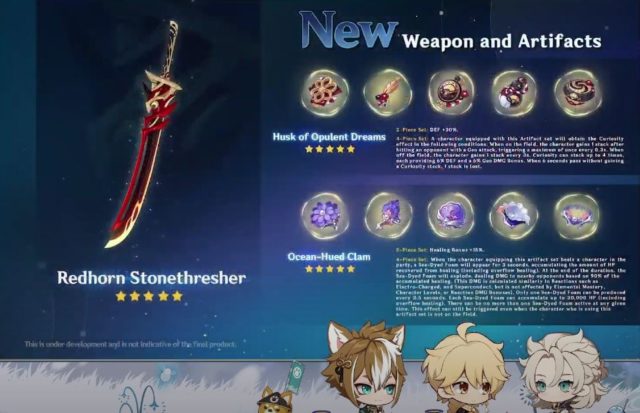 Two new sets of artefacts are coming in 2.3. The Husk of Opulent Dreams is fairly obviously for Itto, while Ocean-Hued Clam seems made for Kokomi. Noelle can also fully utilise the new Geo set, though, and of course Albedo will really benefit from its 2-piece bonus. I believe the only other character who could want this 2-piece bonus would be shield-build Xinyan. It will likely become more useful as more defence-scaling characters join the game.
There's also, of course, Itto's signature weapon to drop alongside him. I can't wait to find out more about it!
We'll also be getting another F2P 4-star event weapon.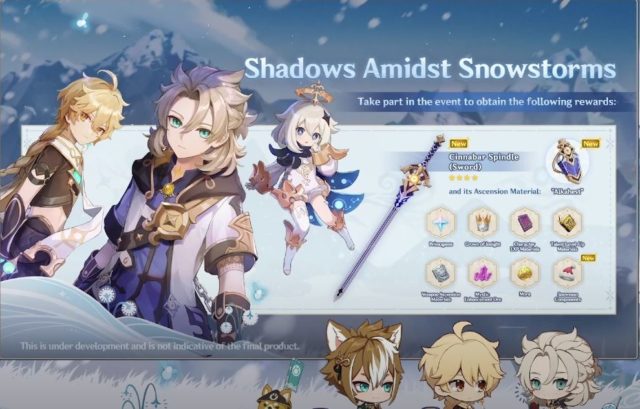 This will apparently be targeted for Albedo, and is a defence boosting sword. It's always worth it to grind for event weapons, this one is no exception!
Events
The new update seems packed full of fun events. The first one shown seems to be some sort of timed running game (Subway Surfers who?) called 'Agility Training'. It fits in with the premise of this update, which is Adventure Guild training at Dragonspine. Then there's Combat Training, which is your usual killkillkill monster shtick (my favourite). Lastly, and perhaps most exciting of all: a snowman building event. So festive! You'll apparently be able to house your snowman in the Serenitea pot, which sounds very cute.
The following event is titled 'Bantan Sango Case Files: The Warrior Dog'. Bit of a mouthful. This event will involve saving small animals from these warrior dogs. ADORABLE. They carry around little swords, hehe. The other side of the event involves freeing animals from cages in dens of thieves. After the event, we'll be able to unlock something called the Omni-Ubiquity Net, which is a gadget that lets you capture animals and bring them home to your pot.
The next event is Energy Amplifier Fruition, which is a new version of the previous Energy Amplifier event. There will also be a dungeon-crawling event featuring trial characters, so it'll be a chance to try out some characters you don't own yet. These two seem to have a higher-difficulty potential, so hopefully, there's content for endgame players in this update.
Paimon is moving in…
Lastly, it seems Paimon will be taking up residence in the teapot, along with our other companions. That'll give us a chance to get to know our closest companion better, with new dialogue to enjoy.
Genshin Impact is available to download and play for free on PC, mobile, and PS4, as well as the PS5. If you still haven't been able to get your hands on the new PlayStation console, register your interest at our shop.
Sign up for our newsletter from the website.
Instagram: Go2GamesShop
Twitter: Go2Games
Youtube: Go2Games.com
Facebook: Go2Games.com
Store: Go2Games.com