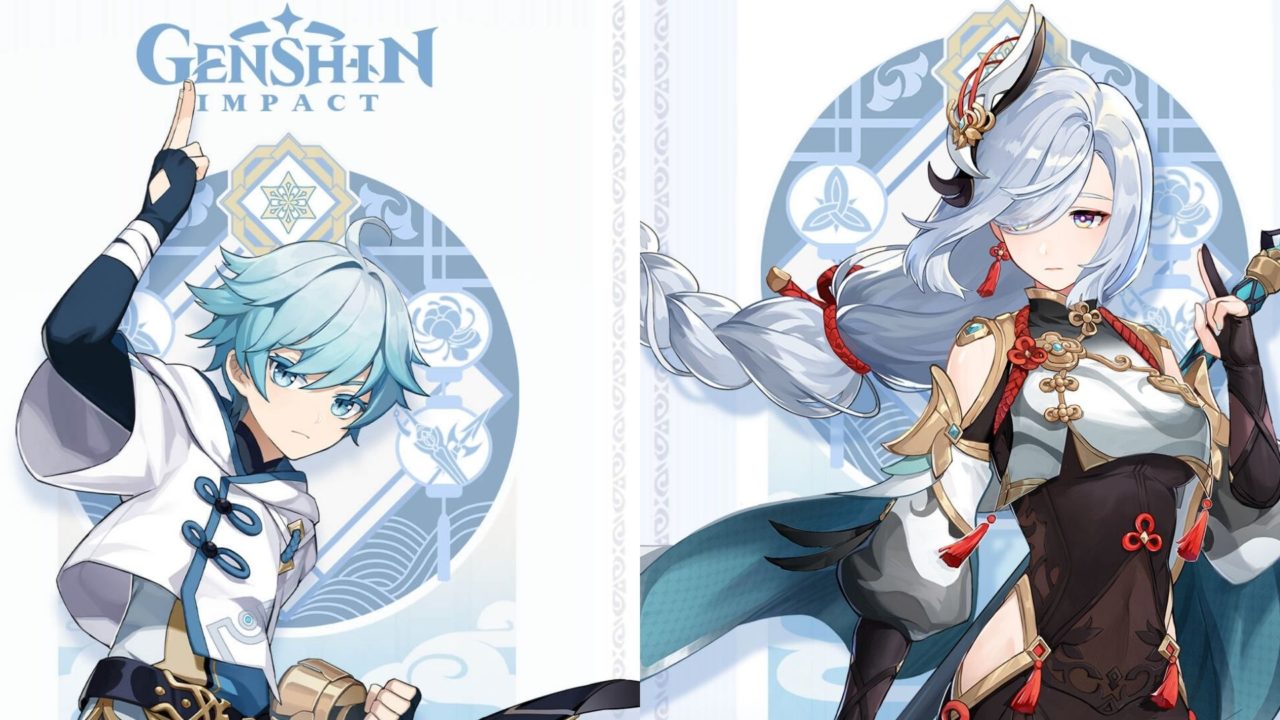 The newly announced 5 star bears a lot of similarities to an existing 4 star.
It's been a little over a week since MiHoYo announced that Shenhe is the next character to join Genshin Impact's parade of 5 stars. While everyone is questioning what her kit will be like, her damage and support capabilities, there's one thing on my mind…
Are Shenhe and Chongyun related?
Typically, Genshin Impact interactions are more focused on building relationships between the player and the characters. The traveller is meant to be a special person to every character (ya know, so you feel more inclined to dump the contents of your wallet for them). However, a few characters have close and frequent interactions or are somewhat branded as a duo. A few 4-star pairings that come to mind are Chongyun and Xingqiu and Razor and Bennett. Most of these interactions take place in limited events, such as the Windblume festival.
(I feel awful for you if you missed this adorableness.)
We're seeing more and more interactions between 5 stars and 4 stars now, though. Again, these usually take place in events. It's great to see, though, as I often felt that the game lacked this aspect. While it feels nice that every single playable character in Genshin Impact is obsessed with me, I would rather see them interacting with one another. Interactions between characters can bring the world to life, taking it from some environment that only exists for players to explore to a living, breathing world.
At the moment, we're seeing a lot of interactions between Eula and Amber in the new event – and it's super cute. Amber took a role in Eula's story quest too. There's also the adorable friendship between Xinyan and Childe that was shown in the 2.2 update's Labyrinth Warrior event.
I love it! I want more!! And perhaps MiHoYo is picking up on that because some voice lines and lore surrounding Shenhe are leading me to believe that she may be related to Chongyun…
First of all, there's her lore.
Shenhe ‧ Lonesome Transcendence

Ethereal Soul Amidst the Mortal Realm

Shenhe comes from a branch family of a clan of exorcists. Due to certain reasons, Cloud Retainer took her in as a disciple.

To Shenhe, Cloud Retainer is a knowledgeable and chatty master.#GenshinImpact pic.twitter.com/OrjpVCqmkD

— Genshin Impact (@GenshinImpact) November 22, 2021
If you know anything about Chongyun, you know he comes from a family of exorcists and is constantly lamenting his pure yang energy that drives spirits away.
So it's possible he may be related to Shenhe in some way. Considering that she was taken in by Cloud Retainer, I'd guess that they were cousins or some more distant relations. If Shenhe has returned to Liyue, it would be feasible that she'd re-establish ties with a younger relative like Chongyun.
That's all just circumstantial, though – right? Here's what really makes me think Shenhe has some kind of friendly relationship with Chongyun:
This voice line of Xingqiu's talks about how Shenhe looks at him 'fiercely'. The last line is the part that really interests me: 'Or maybe… upset someone close to her?'
If you don't know, Xingqiu and Chongyun have a pretty cute dynamic – while they're good friends, Xingqiu is prone to teasing Chongyun and sending him on non-existent exorcist missions. Though Xingqiu always fixes any mess Chongyun lands in, Chongyun laments Xingqiu's teasing and suggests forming a 'victims of Xingqiu alliance'.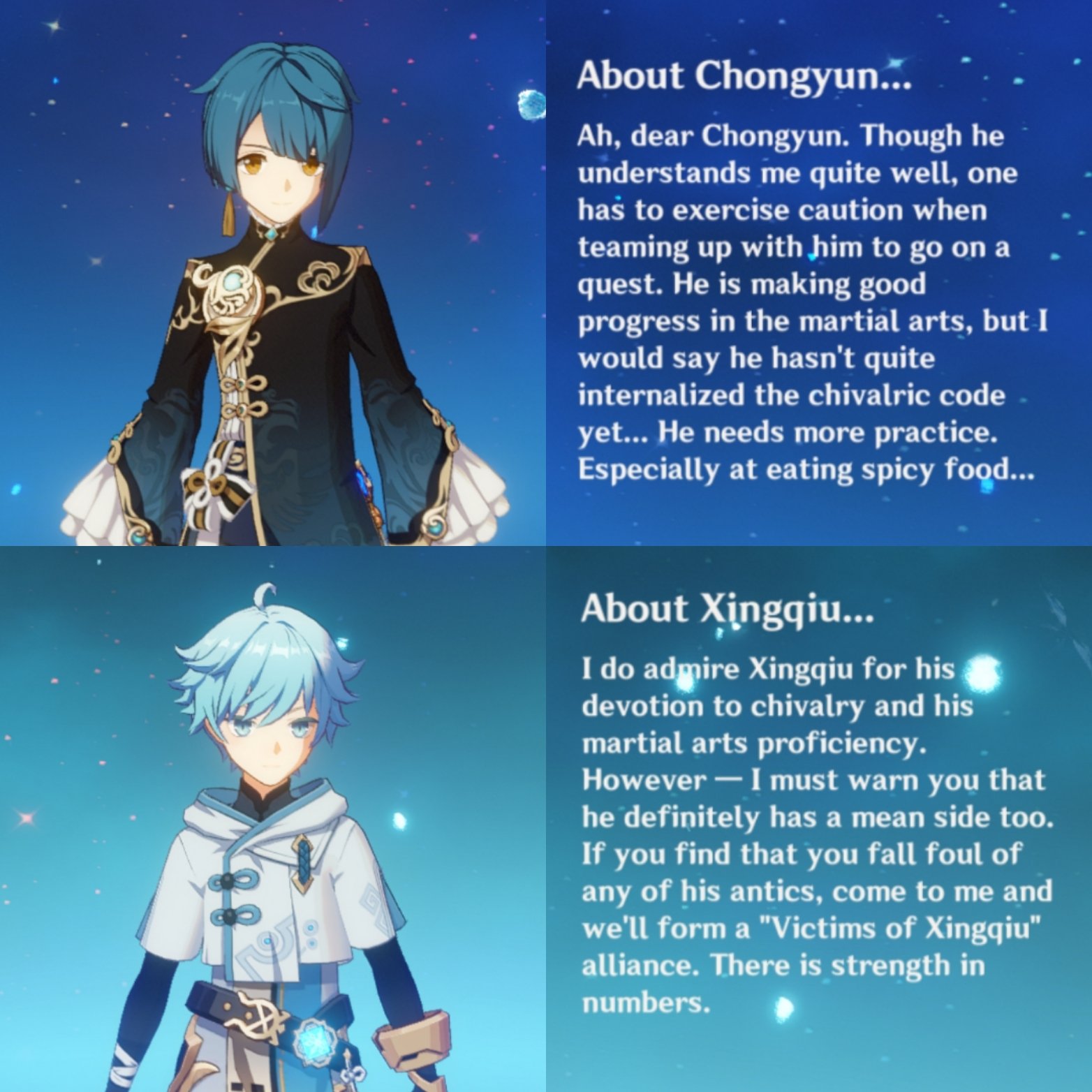 Yes, one of the ways Xingqiu likes to torment Chongyun is by feeding him spicy food that upsets his delicate yin/yang balance. Currently, Chongyun seems to be the sole 'victim of Xingqiu', so it seems to me that he would be the most obvious answer for the person that Shenhe is 'close to' that Xingqiu might have upset.
Xingqiu may have upset someone who has ties to Shenhe, like Ganyu or Cloud Retainer (or maybe it's something to do with the Guhua clan – who knows?), but I feel like the evidence is pointing to Chongyun right now.
Twitter was quick to jump on the idea, and lots of fan art featuring Shenhe and Chongyun and jokes about Shenhe defending Chongyun from Xingqiu are circulating.
This what I imagine in Xingqiu's voice line for Shenhe. #Xingqiu #Chongyun #shenhe #Xingyun pic.twitter.com/w8YfWur1BG

— ✨セシナ✨ 🎮 Tales of Arise 💛 (@setsuna3118) November 25, 2021
I do hope that the Shenhe/Chongyun siblingship comes into the game in 2.4. I loved the surprising sibling-like duo of Xinyan and Childe; these sorts of interactions are really cute and make characters feel more natural.
Though some fans were not too pleased with how the Chinese nickname was just translated to 'brother', I feel like it works fine as a quirk of Xinyan's.
I'm trying to keep in mind that the Shenhe/Chongyun theory could prove false, but it's too cute to let go of! I really hope to see it in Genshin Impact 2.4.
Genshin Impact is available to download and play for free on PC, mobile, and PS4, as well as the PS5. If you haven't been able to get your hands on the new PlayStation console, register your interest at our shop.
Sign up for our newsletter from the website.
Instagram: Go2GamesShop
Twitter: Go2Games
Youtube: Go2Games.com
Facebook: Go2Games.com
Store: Go2Games.com