The new Moonchase Festival event in Genshin Impact offers the chance to get a fully-refined and funky fish claymore weapon.
And it's actually kind of OP?
When I first saw that the 2.1 Genshin Impact update would bring our first wacky weapon, my first thought was "I can't wait to make Diluc fight with a giant fish". But as it turns out, this weapon is actually pretty insane on my favourite popsicle-loving boy, Chongyun.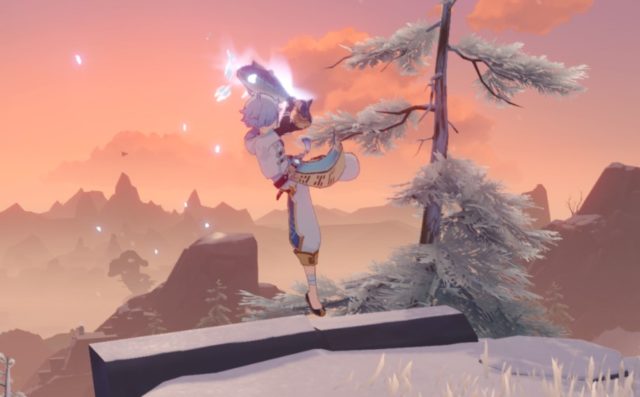 Chongyun is one of the best, and most underrated, nukers in Genshin. At talent level 8, each of his spirit blades does 271% damage.
It might not look massive compared to the 5-star characters' bursts, but remember: he does three instances of damage. Essentially, we're looking at 813% damage at level 8; that's more than the reputable nuker Tartaglia.
Not only that, but his burst only costs 40 energy. This makes it pretty spamable, especially if you're pairing him with another cryo unit.
Thanks to the mechanics of reverse-melt, all three blades can trigger the reaction without removing the Pyro status of the enemy. The main disadvantages of his burst are that sometimes one of the hits won't crit, or an enemy will dodge one or two of the blades. Worst case scenario, he misses entirely. It's pretty hilarious, but also a little humiliating.
I normally utilise Chongyun's skill to enable melts for my C5 Bennett. After playing with him for some time, I decided to invest a bit more to make him into a capable nuker / sub-DPS, as well as a Cryo-applicator. It's now his side-hustle, if you will.
The passive of the new 'Luxurious Sea-Lord' fish claymore, Oceanic Victory, increases burst damage by 24% at refinement Rank 5. It also does an additional 200% of attack dmg as AoE when a character uses their burst, but that really doesn't amount to a whole lot – the burst damage increase is what we're interested in.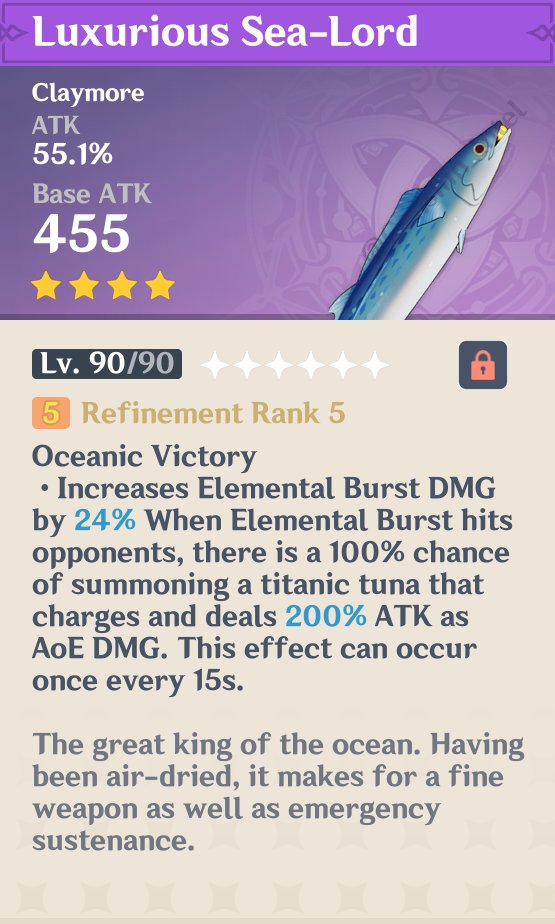 You can get all of the refinement materials from the event, completely free – similar to the Festering Desire sword from a previous event.
During the current event period, there's a 1.5x Weapon Enhancement bonus, meaning it's now the best time to level up this weapon and save on resources.
The base attack is a bit on the low side, but the 55.1% attack substat makes up for it. It has a much higher attack substat than the Prototype Rancour, which has a higher base attack.
Now that I've gotten the giant fish leveled up to 80, I decided to undertake a quest to see if Chongyun could one-shot the Pyro Regisvine with it.
The short answer is: yes, he can!
My Chongyun is rocking a 60:160 crit ratio; Bennett's buff giving him stupidly high attack, and Albedo's burst providing an Elemental Mastery boost. His burst hit for three instances of 40k, totaling 120k.
Here he was using a combo of the Noblesse Oblige and Blizzard Strayer sets for Cryo damage and burst damage boosts. His burst talent level here is 11, that's 8 plus 3 levels from constellations.
Unfortunately, my fish is still at R4; I've been struggling to track down all those pesky Moonchase chests in Dragonspine. But that just means even greater damage potential awaits me!
I'm sure there's Chongyun mains out there hitting much harder, but I was impressed by his damage output! Without that much investment, he pretty much left my Tartaglia's burst in the dust.
I'm hoping to get his last couple constellations at some point, and then invest more into his artefacts and talents. We'll see just how far I can take his damage output in the future.
Who else can make use of the new fish claymore?
As it has a hefty attack substat, this weapon makes a good F2P option for pretty much any DPS or sub-DPS character. However, the two characters that can get the absolute most out of the fish are Chongyun and C2 Xinyan.
At constellation two, Xinyan gets 100% crit rate on her burst. Meaning that you can pack some crazy crit DMG on her, and it'll still be guaranteed to crit.
The 24% dmg boost from this weapon will pack quite a punch on Xinyan's burst. We're also set to obtain a free copy of Xinyan in an upcoming event, so the timing is perfect.
Dear Traveler,
The Version 2.2 "Into the Perilous Labyrinth of Fog" preview page is here!

Go to V2.2 "Into the Perilous Labyrinth of Fog" Preview Page >>> https://t.co/pv1npcrV7O
※ Open the event webpage from within the game and share the page to get 20,000 Mora#GenshinImpact pic.twitter.com/G0SAKw2w5P

— Genshin Impact (@GenshinImpact) October 4, 2021
Other claymore damage-capable characters do have some better four-star alternatives. It's not great for Noelle or Razor, as the passive only applies to initial burst damage.
Diluc's burst makes up a fairly small portion of his damage, and Beidou is still better off with the Serpent Spine. If you're willing to fork out £8.99 for the Battle Pass, the Serpent Spine is one of the best 4-star weapons in the game.
(Tip: put your DPS character using the Serpent Spine at the beginning of your Spiral Abyss team. Have them stand there, waiting for the passive stacks to build up before you initiate the floor.)
Should I obtain and enhance this weapon?
It's free to refine, and there's an enhancement bonus at the moment. I would definitely say this weapon is worth the effort of obtaining and enhancing.
Even if it's not best-in-slot for the claymore-wielder of your choice, this is a pretty solid weapon for dealing damage. Just whack it on any DPS or sub-DPS you fancy, I say.
And, I mean… it's a fish, guys. There's literally nothing better than watching the adorable exorcist swinging around a giant fish. The fact that he can bang out some big numbers with it is just a bonus.
Sign up for our newsletter from the website.
Instagram: Go2GamesShop
Twitter: Go2Games
Youtube: Go2Games.com
Facebook: Go2Games.com
Store: Go2Games.com
Before you go: grab these voucher codes for use at Go2Games!
These offers end on October 18th
Use HARVEST5 for 5% off Monster Harvest!
Use WRC10 for 10% off WRC10 on all platforms!
4 days to go…