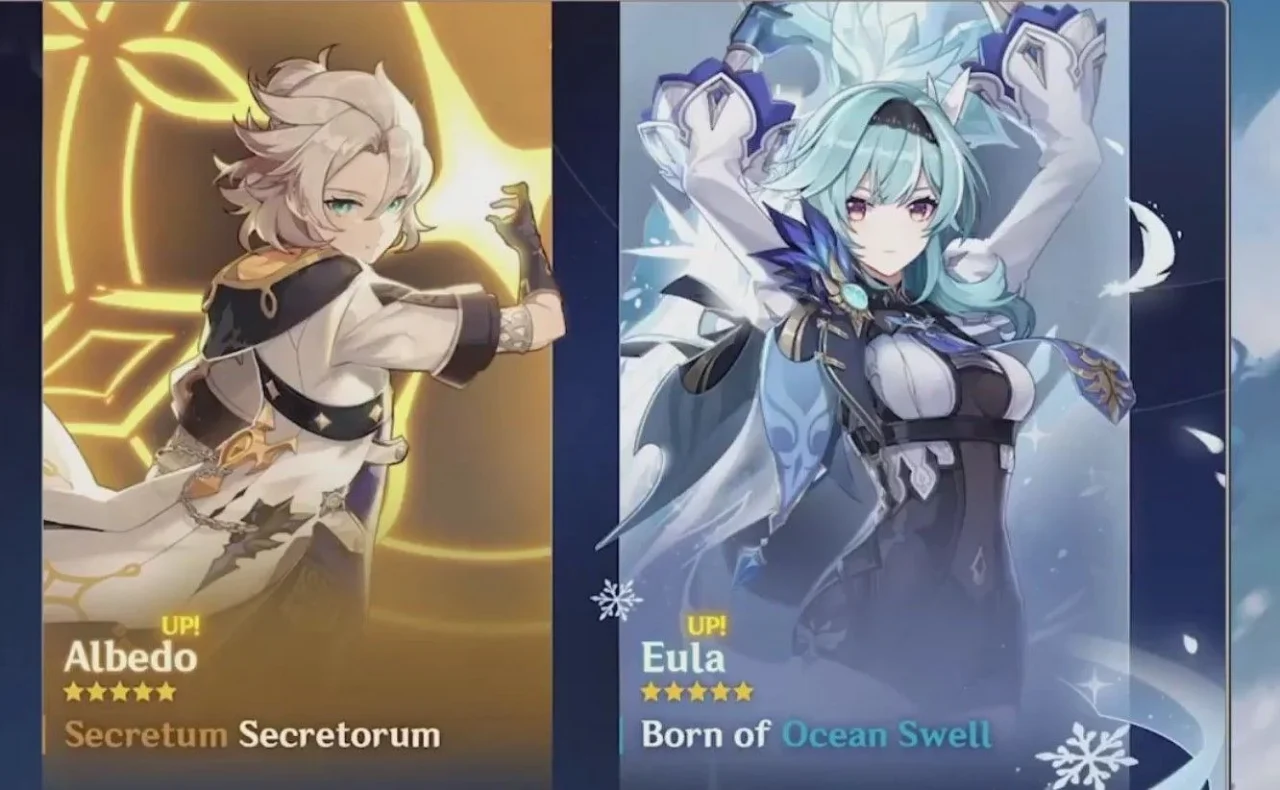 The announcement that Genshin Impact 2.3 would run dual rerun banners was a huge surprise. From now on, we will get two limited character reruns at once. The four stars on each banner have now been revealed to be the same, so all that matters is which five star you want to choose.
Primogems are very scarce in Genshin Impact, so you need to choose how you spend them wisely.
This guide will advise you on which banner to pull on, given your current position in the game.
If you're already set on skipping these banners and are saving for Arataki Itto, you need not read on. You're in the same camp as me, actually! The rest of you: I know Albedo like the back of my hand, as he was the first 5 star I wished for, and I've done a fair bit of research on Eula. So don't worry – I'm very well informed even if I'm giving these banners a skip.
Firstly, Bennett
If you're a new player and you still don't have Bennett, this banner is basically a must-pull. Bennett is the best support character in the game (and he might be the best character full stop). His elemental burst can supply your team with a huge attack boost, as well as healing them. Ideally, you want to unlock his first constellation too.
Bennett is my main DPS and my favourite character, and I never shy away from talking about how great he is. But I swear on my life, I'm not being biased here. Any seasoned Genshin player will tell you this, and you can see him take the SS spot in any tierlist.
If you do have Bennett, though, your main consideration is going to be Eula or Albedo.
Eula vs. Albedo
It is a little difficult to compare these two, as they serve such different purposes. But alas, most of us can only afford to get one 5 star at most, so compare them we must.
Eula is a DPS character who specialises in physical damage, and also delivers a huge hit with her burst. Albedo, on the other hand, is a sub DPS character who can deal a lot of off-field damage without taking time away from your main DPS, and he can also provide shields to give your team durability.
Your personal needs
Are you lacking a single, powerful DPS unit who can serve as a hypercarry? Then perhaps Eula is the character for you. You can use her, pretty much endlessly, without switching out, and deal a lot of universal physical damage.
However, Eula isn't a super meta DPS compared to some of the other units. If you already have a couple of strong DPS characters such as Xiao, Hu Tao, Ayaka, or Ganyu, you might benefit more from a support-oriented 5 star like Albedo.
One of Eula's weaknesses is split damage. Her burst hits really hard and makes up a good chunk of her overall damage, but because it's cryo damage you can't really utilise her full damage potential. Ayaka, in comparison, attacks and bursts in cryo damage, so she suffers less of a damage loss.
Eula, being a hyper carry, isn't so end-game friendly either. When you get to endgame and have a lot of units built, quick swap teams are the way to go.
However, if you haven't reached that point yet, Eula can carry you there. I'd say her banner is a lot more beginner friendly.
Albedo, on the other hand, is someone you'll be adding to your team, rather than building a team around. He has excellent usage statistics in the spiral abyss among players who have him, and I've written a full guide on how to build him and how he works.
Albedo is only set to get stronger in the upcoming update. A free to play sword that is perfect for his playstyle is headed our way, as well as a new artefact set. Albedo is fairly low-investment to build and works with a three star sword as well, compared to Eula who takes quite a bit of investment. This makes him more ideal for endgame players who are concerned with resin efficiency.
Geo and its future…
To be honest, Albedo is stuck with the Geo element, which isn't in a great place in the game's meta. It's basically the 'tank' element, and typically focused on survivability. But in Genshin Impact, huge damage is needed to clear the spiral abyss.
However, the future of Geo could be bright. The introduction of Gorou and his skill that stacks buffs with the number of geo characters in the party suggests that the game is steering us towards building mono-geo teams. It's true that, already, geo characters only really synergise with each other, thanks to the element's massive resonance buff.
Personally, it's my favourite element. I just think it's exciting to see big raw damage numbers, and I enjoy being able to face-tank without worrying about dodging. I can't wait to see how Albedo and Zhongli will synergise with new characters Itto and Gorou. But, that doesn't change the fact that geo isn't in the meta right now, so if you only care about doing big damage, maybe the element itself isn't for you.
The verdict…
While Eula is a more universal and beginner-friendly character, Albedo is a more niche support that's perfect for endgame players trying to maximise their damage and efficiency, or wanting to explore a mono-geo team.
My personal recommendation would be Albedo, as stronger DPS character reruns are likely on the way in 2.4. Albedo fills a more niche role and is therefore less likely to be powercrept, whereas Eula is going to be outdone by stronger DPS characters.
However, it depends on the state of your account. If you need a strong and reliable hypercarry to plow through the abyss with, Eula could be the character for you.
Most importantly, choose the character you like!
At the end of the day, your own enjoyment is more important than the meta. If you really love one of these character's designs or playstyles, and they're going to make your gaming experience more enjoyable, simply go for that! I originally wanted Albedo because he's pretty. He just also turned out to be super useful for me down the line as well.
Genshin Impact is available to download and play for free on PC, mobile, and PS4, as well as the PS5. If you still haven't been able to get your hands on the new PlayStation console, register your interest at our shop.
Sign up for our newsletter from the website.
Instagram: Go2GamesShop
Twitter: Go2Games
Youtube: Go2Games.com
Facebook: Go2Games.com
Store: Go2Games.com