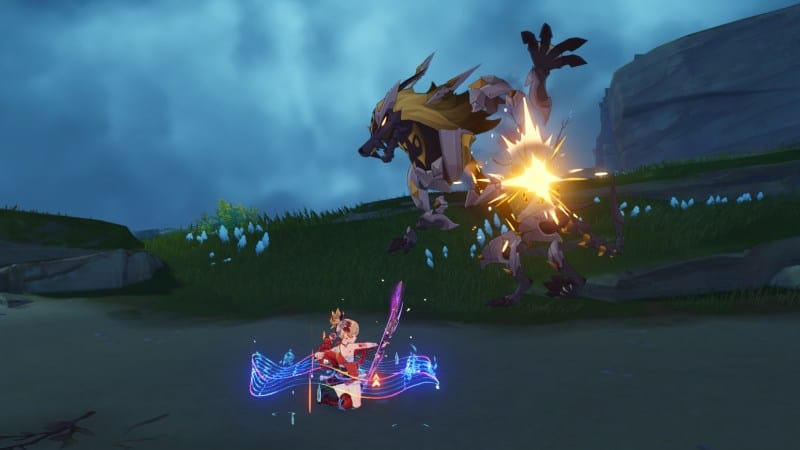 New mechanics should bring new excitement to the game, but many players aren't enjoying getting punted into oblivion by Rifthounds.
There is a huge variety of enemies to run into in the open world of Genshin Impact, and MiHoYo are constantly adding more. Update 2.2 brought a new kind of doglike enemy called 'rifthounds', and along with them a new mechanic called 'corrosion',
Corrosion is a mechanic that drains your party's health over time, a bit like poison effects you'll find in many games.  The mechanic is frustrating because it completely ignores shields, which have been central to the defensive meta for a while now.
Instead, corrosion prompts you to use characters that can heal your whole party – such as Kokomi, Barbara, and Qiqi. Less so Noelle, whose healing isn't quite as consistent unless you have her C6 and can maintain her burst. Diona and Bennett, who only heal the on-field character in the active area of their bursts, are also somewhat nerfed by this mechanic.
Some players felt frustrated, saying this was just a ploy to drive Kokomi's sales up. I personally don't mind MiHoYo driving healers into the meta. It might be time for me to build Qiqi again, using the new artefact set.
However, the new rifthound enemies are annoying, to say the least. They've taken the starring role in the new artefact domain, and they're pretty much a pain there too. Players have been exploiting a glitch with Keqing in order to complete the domain without getting hurt and dealing with the pesky corrosion mechanic.
To do the glitch, plant Keqing's skill outside of the domain floor and teleport immediately after starting the challenge. You'll be safely outside of the danger zone and you can still damage the enemies through the barrier.
It's much easier, though, to find a strong co-op team and grind the domain with them. This is partially due to how corrosion works. Corrosion will drain the health of your WHOLE party, including those who aren't on the field. By having four active characters from different players in co-op, one person getting hit won't mean the whole team starts getting hit with corrosion.
Not only that, but you can get by fine with a healer like Diona or Bennett, since everyone is on the field.
However, you can't count on co-op for the Spiral Abyss, where the rifthounds are causing more chaos. The Spiral Abyss is the hardest part of the game, and players have been complaining that it's only getting harder. One popular Reddit post shares statistics demonstrating just how much the Spiral Abyss difficulty has increased.
While it's great that MiHoYo are offering tougher endgame content for veteran players and whales, the Spiral Abyss is becoming less and less friendly to average players. I think that they should add more floors with better primogem rewards for this difficulty spike. Not only that, but it seems their idea of making it harder is just introducing tankier enemies, like rifthounds with a million health and triple Maguu Kenki madness.
New Genshin Abyss floor 12 be like pic.twitter.com/ctK3n6oPYF

— IΛN ☄️ (@Venhiru) December 1, 2021
If you plan on 36-starring the new abyss, you better get good at I-framing.
Either that, or tailor your team builds to perfection for the new enemy rota. Healers and Geo characters are going to be shining in this new abyss.
One last tip for those pesky rifthounds: they have lower resistance to the element that matches their own. So electro in the new artefact domain, or Geo in the abyss. You're welcome.
Genshin Impact is available to download and play for free on PC, mobile, and PS4, as well as the PS5. If you haven't been able to get your hands on the new PlayStation console, register your interest at our shop.
Sign up for our newsletter from the website.
Instagram: Go2GamesShop
Twitter: Go2Games
Youtube: Go2Games.com
Facebook: Go2Games.com
Store: Go2Games.com