Stingy-HoYo strikes again by combining a popular 5 star sword with a useless claymore on the upcoming weapon banner for Genshin Impact 2.6.
dude 💀 https://t.co/5jfwPVKq2A

— dish (@companiondish) April 13, 2022
A quick scroll through the quotes or replies to Genshin Impact's tweet announcing the upcoming weapon banner shows total, utter dissatisfaction. While the Mistsplitter is one of the most coveted weapons in the game, and is Ayaka's signature weapon, The Unforged is the most useless 5 star claymore for most players.
The Mistsplitter reforged packs a ton of critical damage, and a high base attack of 674 at level 90. In addition to this, its passive gives an elemental damage bonus – one of the most coveted bonuses a weapon could have. It's being rerun alongside Ayaka, who is arriving with her brother's departure in mere days.
Critical rate and critical damage are pretty much the most valued stats when it comes to late game Genshin Impact, which is why 5 star weapons that don't have a CRIT main stat are considered much less useful to players. There are, of course, some exceptions. There's Eula's weapon with its Physical DMG bonus, and Kazuha's with Elemental Mastery. But for the most part, players would rather get their hands on something with that sweet, sweet critical boost.
The Unforged, on the other hand, has an Attack main stat. It's still an offensive stat, but not as good as critical rate or damage for traditional DPS characters.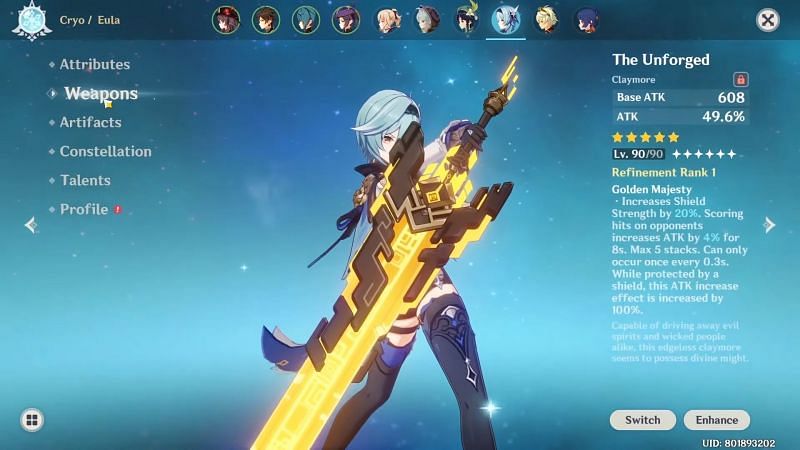 It's not the worst weapon in the game, but it's the best in slot weapon of precisely zero characters. The reason this weapon is so irksome is that its passive doesn't really synergize with its stats. It has a 20% Shield Strength buff, but provides Attack. The only claymore character who can independently produce a shield is Noelle – and her shield scales with defence. Most only use her as a DPS at C6 also, at which state she is also dependent on defence scaling. You wouldn't want to use this on Itto either – he also needs defence. You can use the claymore on any traditional DPS and benefit from the passive if you have a reliable shielder, such as Zhongli, in your party – which will make this weapon good, but not great.
The reason so many fans are irritated by this is that the Mistsplitter has been highly coveted for a long time, with many people desperate for it to get a rerun. But, for most people, the 50% chance of losing to The Unforged makes this weapon banner very unappealing.
I personally find the decision irritating because it makes it very clear that HoYoverse's primary concern is milking whales for all their cash. They reran Venti instead of Ayaka alongside her brother Ayato, solely so they wouldn't have to put their signature weapons – two very powerful swords – on one banner. No, that would provide too much good value to the players! And then they would only do 60-odd pulls instead of hundreds of pulls to reach the guaranteed Mistsplitter. But wouldn't it make a lot of thematic sense to run Ayaka and her Ayato's banners together? It would also have been a great promotion opportunity! Put the focus on the Kamisato siblings!
Deep down, all I want is a 5-star CRIT sword for my Bennett… wish me luck for this weapon banner –  heaven knows I'll need it.
Genshin Impact is available to download and play for free on PC, mobile, and PS4, as well as the PS5. If you haven't been able to get your hands on the new PlayStation console, register your interest at our shop.
Sign up for our newsletter from the website.
Instagram: Go2GamesShop
Twitter: Go2Games
Youtube: Go2Games.com
Facebook: Go2Games.com
Store: Go2Games.com