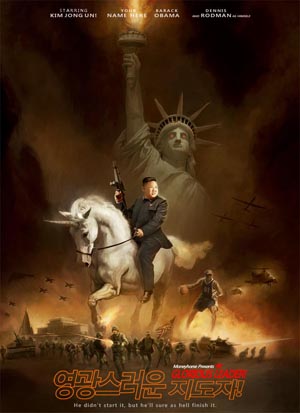 Glorious Leader!
Video Game starring Kim Jong Un adds level on the Sony hack
Glorious Leader!, a 2D action game starring North Korea's supreme leader Kim Jong Un and Dennis Rodman is pressing on with development despite the recent Sony Pictures hack, which eventually led the studio to cancel the controversial Seth Rogen/James Franco movie 'The Interview'.
Developer Jeff Miller, of Moneyhorse, told the Associated Press that not only is he still planning to release the game, but he's adding a level that takes place at the Sony Pictures backlot, with references to the recent hack and 'The Interview'. He said he wants the game to be as topical as possible and that he isn't afraid of being hacked himself because the game portrays Kim Jong Un in a positive light.
Jeff Miller is also capitalizing on the recent headlines with a new Kickstarter campaign for the game. He's hoping to raise $55,000 by January 15. So far he has $6,468 from 235 backers. Not bad going!
Whatever happens with the game, US President Barack Obama would probably support Miller's efforts. Obama has said that Sony's decision to cancel 'The Interview' was a mistake. Obama will also make an appearance in Glorious Leader! as well… YES!!
You can watch some of the Glorious Leader! game-play HERE, on our 'Exciting Game Trailers' playlist on YouTube.