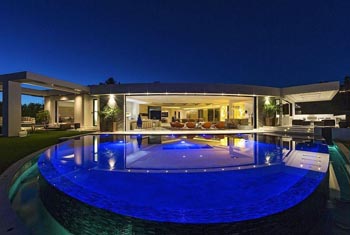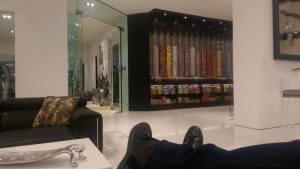 It's a Minecraft Mansion!
Minecraft creator Markus "Notch" Persson sets the record for the highest bid on a property in Beverly Hills.
The legend has only gone and done it! Markus "Notch" Persson has purchased a mansion in Beverly Hills, California, for $70 million. This is the highest bid that a property has been sold for EVER in these parts, which was announced by residential brokerage John Aaroe Group. According to Polygon, Notch even outbid Jay-Z and Beyonce for the property. (This is the point where we all sit back with the look of extreme pleasure on our faces).
Notch tweeted a photo of himself in his brand new pad (see photo above) which includes "luxury furnishings", as well as cases of Dom Perignon, a 54-foot automated glass door that opens into an infinity pool with iPad-controlled fountains and a view of the surrounding area, which spans from downtown Los Angeles to the Pacific Ocean.
When Sweden-based developer Mojang was sold to Microsoft in September for $2.5 billion, Notch had owned 70% of the stake and would have made approximately $1.75 billion as a result of the deal. Following the sale, Notch, along with chief executive Carl Manneh and co-founder Jakob Porser, departed the company. 
What a lucky chap and what an amazing pad! Maybe one day he'll have a party and invite all of us.. (I'm just reliving a dream I had about this)