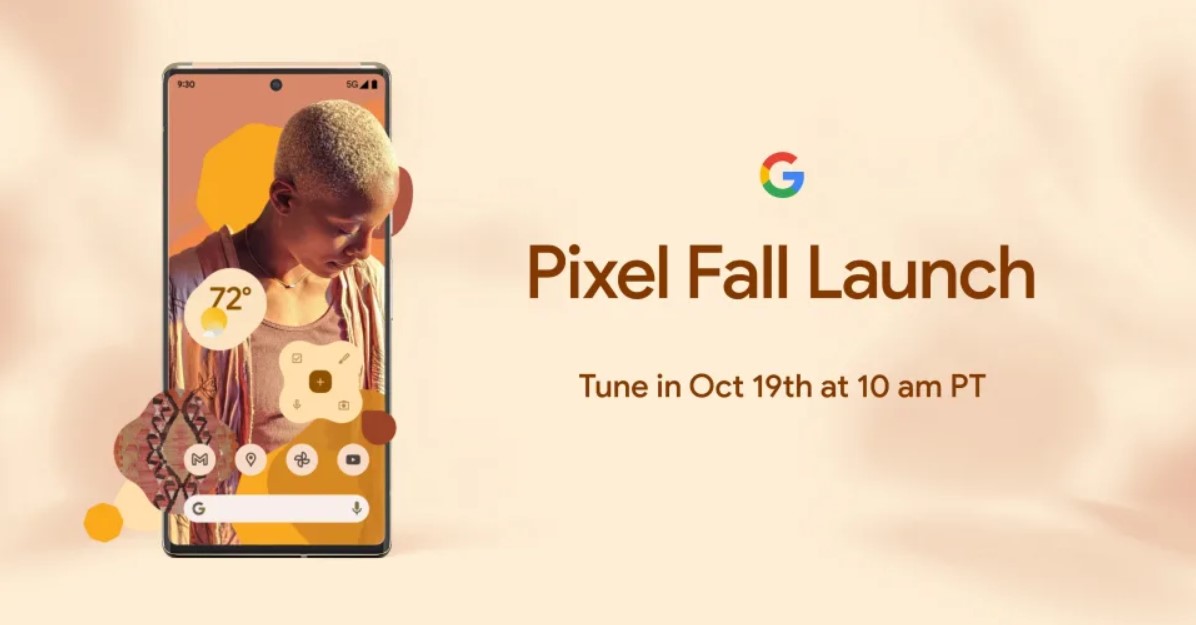 Google has revealed that its Autumn hardware event will be held on October 19th at 6pm BST.
The company has already shared some details regarding the Pixel 6 and Pixel 6 Pro, including the visual designs. Google announced in August that Tensor, the first system-on-chip it designed, will debut on these new devices. The SoC will power the Pixel 6's AI-heavy features, such as speech recognition and on-device live captions and translation.
The new models come with significant camera upgrades. The Pixel 6's camera will allow approximately 150 percent more light in than previous models, and the Pro will also have 4x optical zoom and an additional telephoto option. The new chip, Tensor, will supposedly enhance the phones' photo processing capabilities too.
Google claimed that a full battery will provide for a day's usage, but did not give information on exactly how many hours a 'day' constitutes.
Both the 6 and 6 Pro will be 5G compatible.
Android 12 is set to be the most significant update to the Android operating system in years.
A few new handy features are dropping with this update.
Monet
Google has created a new theme engine code-named "monet". Monet generates a palette of pastel colors derived from the user's wallpaper. These colors are then applied to various parts of the system and their values are made available through an API that the user's applications can call, thus letting apps decide whether they want to recolor their UI. It looks to be a very aesthetically pleasing update, and perhaps serves as a more efficient alternative to manually customising widgets and application icons.
Scrolling screenshots
Android 12 finally adds a highly requested feature: scrolling screenshots. With this feature, you can take a screenshot of a full scrolling page, without needing to take and combine a confusing series of screenshots. This feature won't work in every application, but it should work most of the time. It'll certainly be handy for screenshotting web pages or conversations.
One-handed mode
This will lower the top of your screen so that you can reach the top with your thumb and interact with your phone one-handed. To be honest, I just prefer to use a phone that I can reach the top of with my thumb at any time, but this will be a handy edition for those who want accessibility plus a larger screen for reading & watching videos.
Game dashboard
With the new game dashboard, you get quick access to useful tools like an FPS meter and screen recorder that can be accessed in-game through a floating button. You can also change the device's performance profile on a per-game basis, stream live to YouTube, or check up on your achievements in Play Games from the dashboard.
Privacy dashboard
This new feature lets you see how often apps request the most sensitive permissions. You will be able to view a timeline of usage for permissions like location, camera, and microphone. From here, you can easily manage which apps have access to sensitive permissions.
Whenever an app is accessing your phone's camera or microphone, you'll see an indicator in the status bar. New toggles let you cut off access to the camera and microphone, preventing any app from using them.
Conversations widget
Do you have a contact you frequently talk to? Android 12's new Conversations widget lets you see their latest message or status update, right from your home screen.
This is just a small selection of some of the new Android 12 features, and of course you can expect the Google Pixel 6 and Pixel 6 Pro to take full advantage of them all.
We still lack some key information on the new phones, for example, how many CPU and GPU cores there are and how much RAM the devices boast. All will surely be revealed at the event this month.
Sign up for our newsletter from the website.
Instagram: Go2GamesShop
Twitter: Go2Games
Youtube: Go2Games.com
Facebook: Go2Games.com
Store: Go2Games.com
Before you go: grab these voucher codes for use at Go2Games!
These offers end on October 18th
Use HARVEST5 for 5% off Monster Harvest!
Use WRC10 for 10% off WRC10 on all platforms!
3 days to go…