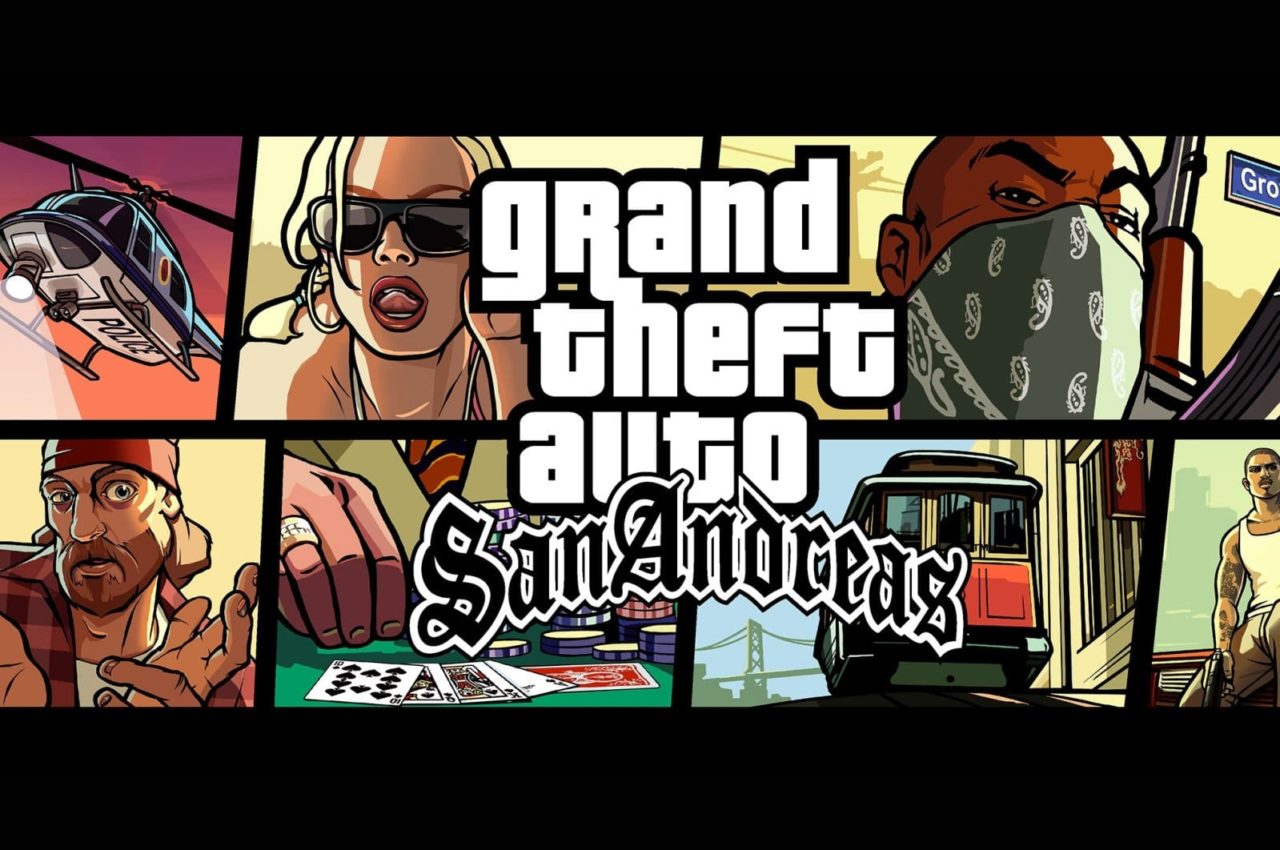 It is time to get the old pen and paper out…
With the newly released Grand Theft Auto: The Trilogy – The Definitive Edition hitting the streets, it is time to remind ourselves of the trusty cheat codes we used as kids. In this blog, we will be focussing on the cheat codes for San Andreas.
There are also more out there than the ones listed, but these are some of the main ones you will want when returning to Grove street with CJ's crew.
Just make sure that you save the game before entering any of the cheat codes, and don't save over your save file after activating a cheat. There's a chance that you could corrupt your save file, and nobody wants that to happen.
How to activate GTA San Andreas cheats:
To activate any cheat in GTA San Andreas, type in the letters as shown in the cheats on your keyboard at any time while the game is unpaused.
GTA San Andreas cheats:
Here are some of the best GTA San Andreas cheats:
Weapons cheats
Weapon set #1 (Thug) – LXGIWYL
Weapon set #2 (Professional) – PROFESSIONALSKIT
Weapon set #3 (Nutter) – UZUMYMW
Health, armour, money, items, and ammo cheats
Full health, full armour, and $250k – HESOYAM
Infinite health – BAGUVIX
Adrenaline mode – ANOSEONGLASS
Infinite ammo (no reload needed) – FULLCLIP
Have a parachute – AIYPWZQP
Have a jetpack – ROCKETMAN
Character stats cheats
Maximum respect – WORSHIPME
Maximum stamina – VKYPQCF
Maximum weapon skill – PROFESSIONALKILLER
Maximum vehicle skill – NATURALTALENT
Maximum muscle – BUFFMEUP
Instantly become skinny – KVGYZQK
Instantly become fat – BTCDBCB
Wanted levels cheats
Increase the Wanted level by two stars – TURNUPTHEHEAT
Clear the Wanted level – TURNDOWNTHEHEAT
Never gain Wanted levels – AEZAKMI
Maximum Wanted level (six stars) – BRINGITON
Spawning vehicles cheats
Spawn a tank (Rhino) – AIWPRTON
Spawn a Bloodring Banger – OLDSPEEDDEMON
Spawn a Rancher – JQNTDMH
Spawn a racecar – VROCKPOKEY or VPJTQWV
Spawn a hearse (Romero) – WHERESTHEFUNERAL
Spawn a limo – CELEBRITYSTATUS
Spawn a Trashmaster – TRUEGRIME
Spawn a golf caddy – RZHSUEW
Spawn a Hydra – JUMPJET
Spawn a hovercraft – KGGGDKP
Spawn a Hunter – OHDUDE
Spawn a quad – FOURWHEELFUN
Spawn a tanker truck – AMOMHRER
Spawn a Dozer – ITSALLBULL
Spawn a stunt plane – FLYINGTOSTUNT
Spawn a Monster – MONSTERMASH
Other vehicle cheats
Free aim while driving – OUIQDMW
Blow up all cars – CPKTNWT
All cars are black – IOWDLAC
Everyone drives cheap cars – EVERYONEISPOOR
Everyone drives fast cars – EVERYONEISRICH
Everyone drives Country vehicles – FVTMNBZ
Make cars invisible – WHELSONLYPLEASE
Improved handling – STICKLIKEGLUE
All traffic lights are green – ZEIIVG
All drivers are aggressive – YLTEICZ
Flying boats – FLYINGFISH
Flying cars – CHITTYCHITTYBANGBANG
All cars have Nitrous – SPEEDFREAK
All cars float away when hit – BUBBLECARS
Smash n' Boom – JCNRUAD
Reduced traffic – GHOSTWORM
Weather and Time cheats
Sunny – PLEASANTLYWARM
Drought – TOODAMNHOT
Overcast – ALNSFMZO
Rain – AIFRVQS
Fog – CFVFGMJ
Thunderstorm – SCOTTISHSUMMER
Sandstorm – CWJXUOC
Always midnight – NIGHTPROWLER
Always dusk (21:00) – OFVIAC
Faster clock – YSOHNUL
Miscellaneous cheats
Speed up gameplay – SPEEDITUP
Slow down gameplay – SLOWITDOWN
Have a bounty on your head – BAGOWPG
Recruit any NPC. They will have a 9mm pistol – SJMAHPE
Recruit any NPC. They will have a rocket launcher – ROCKETMAYHEM
Gangs control the streets – BIFBUZZ
Gives pedestrians golf clubs, and they will attack each other – AJLOJYQY
Gives pedestrians rocket launchers, and they will attack each other – BGLUAWML
Riot Mode – STATEOFEMERGENCY
All NPCs are gang members – ONLYHOMIESALLOWED
All NPCs are Elvis impersonators – BLUESUEDESHOES
All NPCs are ninjas – NINJATOWN
CJ, all NPCs, and all vehicles are Country themed – BMTPWHR
Everyone wears beach clothes – LIFESABEACH
Everyone wears clown gear – CRAZYTOWN
Arms everyone with weapons – FOOOXFT
Instantly kills CJ – GOODBYECRUELWORLD
Huge BMX bunny hop – CJPHONEHOME
Higher jump – KANGAROO
In other news, October and the beginning of November have seen some big next-gen titles being released, including the likes of Call of Duty: Vanguard, FIFA 22, Far Cry 6, and Left 4 Dead's spiritual successor, Back 4 Blood. You can purchase all of these titles, as well as pre-ordering both Elden Ring and Battlefield 2042 from our Go2Games website.
To keep updated with the shop activities and weekly competitions, follow Go2Games on social media:
Instagram: Go2Gamesshop
Twitter: Go2Games
YouTube: Go2games.com