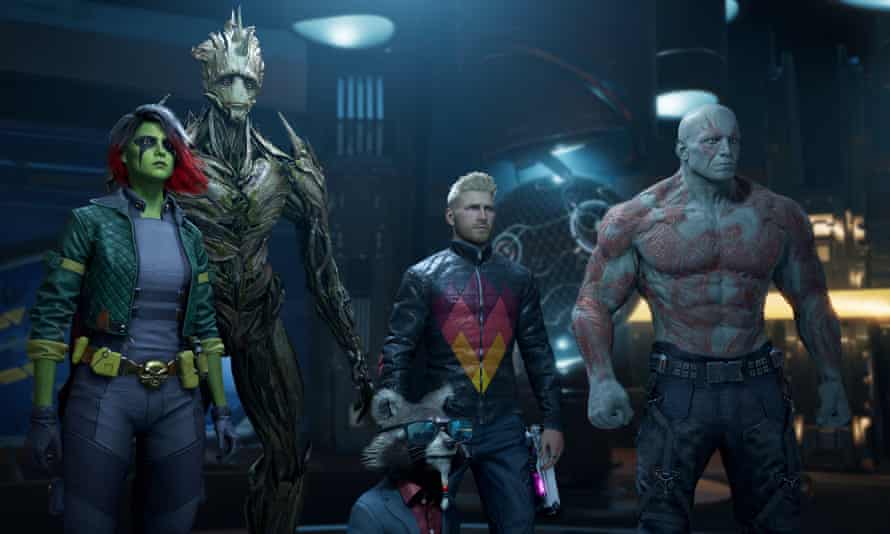 Marvel's Guardian of the Galaxy game has got PC fans across the world rejoicing this week as they release a brand new PC tech trailer- with its enhanced graphical features giving any Guardian fan another reason to count down the days till its October 26th release.
Whilst the Marvel teams first solo game is also set to be released on the PS5 and Xbox Series X, it seems PC Gamers who boast the latest and greatest in PC hardware are going to get the best out of Star-Lord and co's latest adventures.
PC Gamers Lucky Once More
"PC players will enjoy this stunning universe's visuals with even higher performance", said Olivier Proulx, senior producer at Eidos-Montréal.  The  developers really are undoubtedly throwing every graphical trick possible to get fans on board the hype train, and if this trailer is anything to go by, well it's certainly working. Unafraid to show off and flex their muscles here, the trailer highlights resolutions going up to 8k, diffuse illumination, HDR, wide colour gamut, ray-tracing and Nvidia DLSS technology which will hope to enhance the games visuals to an unprecedented level.
"The result is always interesting when you're kicking ass while blasting Rick Astley's Never Gonna Give You Up." https://t.co/gcAJfiXZcm

— Marvel's Guardians of the Galaxy (@GOTGTheGame) October 3, 2021
The upcoming action-adventure game looks set to help capture the same whackiness of their 2014 motion picture outing which helped propel the names of Star-Lord, Gamora, Drax, Rocket and Groot into the mainstream media . With beautiful colour designs required to create such vibrant environments, Eidos Montreal are not holding back in their attempts to produce truly immersive worlds for us to explore from the third-person perspective of Peter Quill.
Marvel will hope all this will be enough to get fans back on board with their gaming adventures, with their Avengers title not quite reaching up to the expectations everyone had wished for. A divisive 68/100 PC metacritic score wasn't what Marvel were hoping to receive, so fans will be anticipating the Guardians of the galaxy game will be able to learn from the Avengers mistakes.
Similarly, Eidos Montreal will be hoping to recreate the success of the Deus Ex titles, which supposedly serve as a major inspiration for the games campaign, with players decisions as Star-Lord impacting the outcome of the story as other guardians of the galaxy may disagree with your choices.
All in all, come October 26th Eidos Montreal will be expecting PC gamers to reiterate Rockets quote in the trailer here, as they look forward to being able to experience 'all the wonderful and terrible things we can do with all this tech'.