As an avid fanatic of the Norse Mythology, you can imagine my excitement when it came to the release of the 2018 reboot of the God of War series. This game had me hyped, and it did not fail to deliver in terms of satisfying action-packed gameplay which saw you encountering a variety of monsters and gods inspired loosely by those of the Norse world.
It also featured a gripping and emotional story that followed Kratos and his son, Atreus on their journey throughout the 9 Realms to fulfil the wishes of Kratos' second wife, who is also Atreus' mother. Along the way you come to discover Atreus' true origin which also alludes to several of the story aspects that we can expect to see within the follow-up title; God of War: Ragnarök.
The sequel's title, as well as the ending of God of War implies that the game will take place during the events of Ragnarök or at least the events that will lead up to the Nordic apocalypse. Throughout the game we are given hints and teasers that imply some of the events which may take place
. As the game was released a while ago, it's understandable if you've forgotten about or missed some of these key details. In today's article, I'm going to be giving a refresher on some of these so you can have an idea of what we could possibly expect to see in God of War: Ragnarök.
Freya's Power is Restored
The first trailer for God of War: Ragnarök made no attempt to hide that Freya and Kratos were involved in some form of conflict against each other. This is understandable, as Freya has every reason to despise Kratos for the death of her son, Baldur, in the first game in the series reboot. However, due to a curse laid upon her by Odin, it is not possible for her to harm any living beings using weapons or magic which has essentially rendered her powerless.
In the trailer though we see her swing for Kratos with a blade. What would the point in her attacking him be, had she not somehow managed to find a way to free herself from these restrictions?  This means that we may get to see how she breaks the curse in Ragnarök, and what consequences that may have for Kratos and Atreus.
The World Serpent's Creation
Kratos and Atreus first encounter the World Serpent, Jörmungandr, in the Lake of the Nine. We learn from Mimir that the serpent is sent back in time to a period before his birth after a battle with Thor, the Thunder God, when he is struck so hard that the world tree splinters.  From this, we can assume that it is likely that the events of God of War take place during a time before the serpent's birth.
This is made clear by the fact that Atreus is still a child during his adventure with Kratos. Atreus is also revealed to be Loki, who within the Norse mythology is the World Serpent's father, so that clearly adds up to meaning its not possible for the serpent's birth to occur yet.
If the games version of events holds true to its source material, then it is possible that we could come to learn more about the origin of the World Serpent. Mimir also states that the snake feels a sense of familiarity towards Atreus, which further shows the two have some kind of connection.

The Giants Return
During God of War, Kratos and Atreus do not encounter many giants. Those that they do come across tend to be dead, excluding the World Serpent. We do come to discover though that they have not been entirely wiped out, and some fire giants still exist within the realms of Musphelheim. They are foretold to return when Ragnarök occurs. If this is the case, the assumption can be easily made that they may make a return in God of War: Ragnarök.
Contrary to popular belief however, despite what the name implies, the race of giants did not always take on the form of hulking colossal beasts within Norse mythology. The term was instead used to show their shared ancestry with the Aesir gods. If Santa Monica Studios decide to stick to this idea, then we could possibly see giants of all shapes and sizes with immense power and knowledge.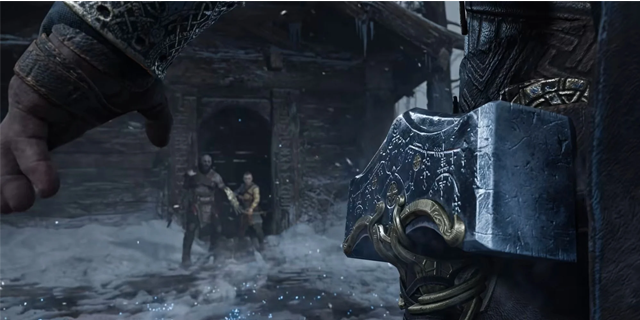 Thor Makes An Appearance
It wouldn't be right to have any kind of story inspired by Norse Mythology, and not introduce the God of Thunder himself, Thor. In the games first reveal trailer, we see Kratos encounter, who we can assume is Thor due to the mighty hammer at his waist. Santa Monica Studios has a history of starting the series games off with epic boss battles, and Thor would definitely make for a good introduction.
Due to his strength and power, it could also be possible that this battle is intended to be lost and allows Kratos passageway to Valhalla. Not only would this make for a good way to balance Kratos' power and cause him to lose some of the strength he has gained throughout his journey so far, it would also allow players to experience the Norse afterlife. Kratos is no stranger to escaping death and freeing himself from the afterlife, so this could make for an interesting introduction to the game.
So, here are some of my predictions based on what we've seen so far throughout trailers and some teasers in the game itself. What are you guys thoughts? Which Nordic gods would you like to see make an appearance?
Looking for that fast-paced action filled fix while you're waiting for the next instalment in the series? Why not try Godfall – a looter-slasher, melee action-RPG. Or pick up some God of War merch in our store!
Don't forget to subscribe to the Go2Games newsletter for updates on the latest gaming news and deals, and follow our socials below!
Twitter: @GO2GAMES
Instagram:go2gamesshop
Facebook: Go2Games.com
Youtube: Go2Games.com
Store: go2games.com