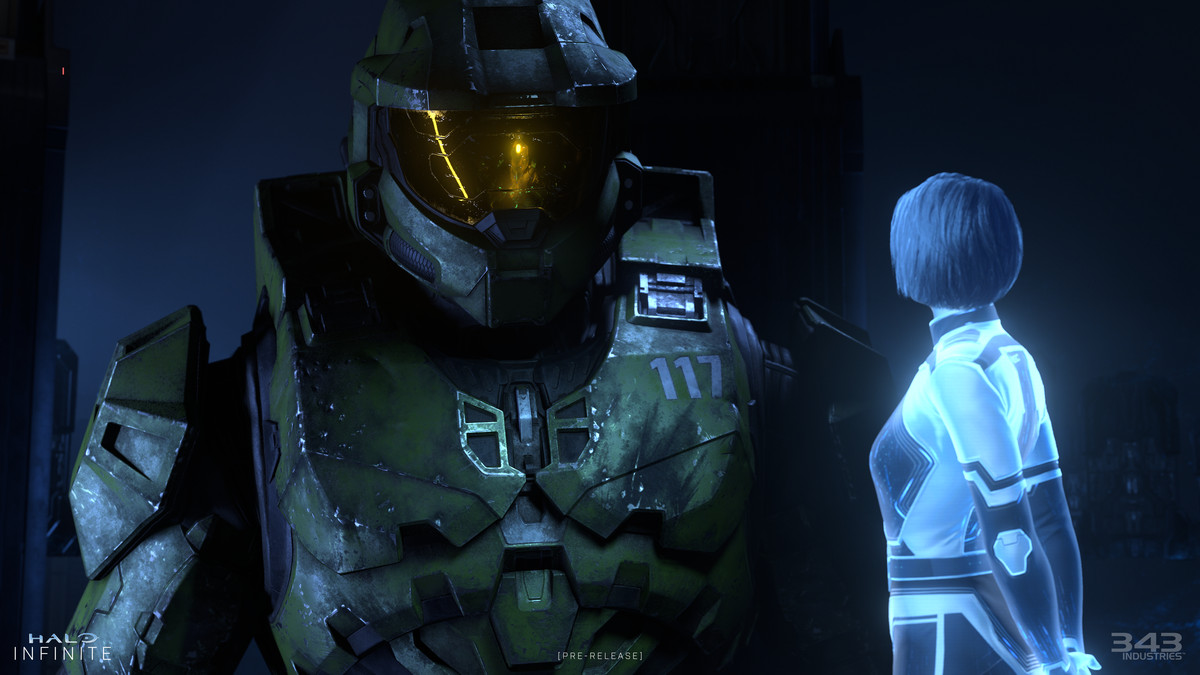 Here we go people, the moment we've all been waiting for. In recent months, 343 have left us in the lurk for how big the download size is going to be for the hotly anticipated Halo Infinite Campaign.
It came as much disappointment when news surfaced that Halo Infinite will not have pre-load support. Instead of being able to jump straight into the action, we'll have to wait for the game to install. As any gamer knows, this can be painstakingly long so we've been desperate to find out how many more hours we'd have to wait. Finally, we've received the news first hand so we can put our minds at rest.
In their latest tweet, 343 Industries have provided a breakdown of the install size. It states that "Players who have downloaded the Multiplayer Beta will have a smaller download size". This shouldn't come as too much of a surprise, as they'll be looking to treat the hardcore fans first we suppose. Not only this, but the file sizes will differ depending on what platform you will be using. Once again, this isn't too much of a shock really is it? The hardware of the Xbox One and Xbox Series X vary massively, so this was to be expected.
Have a look at the thread below to see exactly how much downloading you're going to be doing. We hope for the best…
When the #HaloInfinite Campaign launches tomorrow at 10am PT, players who have downloaded the Multiplayer Beta will have a smaller download size. While download sizes may vary by platform, this guide will give you an idea of what to expect tomorrow. pic.twitter.com/Tg3SzFvlhl

— Halo Support (@HaloSupport) December 8, 2021
Halo Infinite Campaign Size Comparison
It's not as bad as we were all expecting, is it? To download both the Campaign and multiplayer it's approximately 48.42 GB. Unfortunately, it's currently unknown how big of an update the physical copies will be as Halo Infinite doesn't fit on one disc. Stay tuned for more information on that when we have it.
In the meantime, just be prepared for a great Halo adventure once more! It's been quite some time since we got a last one so we can't wait to delve into one. Here's the official description of the game below:
"When all hope is lost and humanity's fate hangs in the balance, the Master Chief is ready to confront the most ruthless foe he's ever faced. Step inside the armor of humanity's greatest hero to experience an epic adventure and explore the massive scale of the Halo ring. To experience the campaign, purchase Halo Infinite (Campaign)".
Who's looking forward to this one then? It's certainly an exciting time to be a Halo fan, especially with the reveal of an upcoming live-action series for the franchise too. Make sure to watch the Game Awards 2021 to see all the information on that! Beforehand, head on over to our store to see what fantastic games we have on offer there. You won't regret it!
Sign up for our newsletter from the website.
Instagram: Go2GamesShop
Twitter: Go2Games
Youtube: Go2Games.com
Facebook: Go2Games.com
Store: Go2Games.com