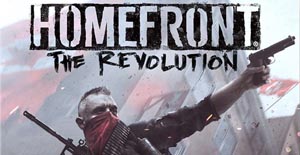 Homefront: The Revolution
Would you like to have your face scanned into this upcoming game for an NPC role? Then get to it!
Deep Silver Dambuster Studios, the developer of Homefront: The Revolution, are looking to have people's faces scanned into the game and "other future video games" as part of a new campaign.
The developer is looking for male and female models, both "of all ages, sizes, and shapes", for the NPC roles. This is happening to "add diversity" to NPC characters for the game's wonderful setting of Philadelphia! In order to be a part of this glorious campaign, you will need to upload a representative photo of yourself, in which your head is clearly visible (as seen in the shot above). Entrants must be the age of 18 or over.
If you are one of the lucky chosen ones then you will be notified and will be in with the chance to visit the developer's studio in Nottingham, UK! There, your face will be captured and you will be asked to give a variety of expressions (sad, happy, etc) and anyone who completes this process will be given £50 ($74). Sounds like a pretty sweet deal to me!
If you aren't picked then fear not! Deep Silver are currently scheduling capture sessions throughout 2015, so you'll still be in with a chance of having your face on screen!