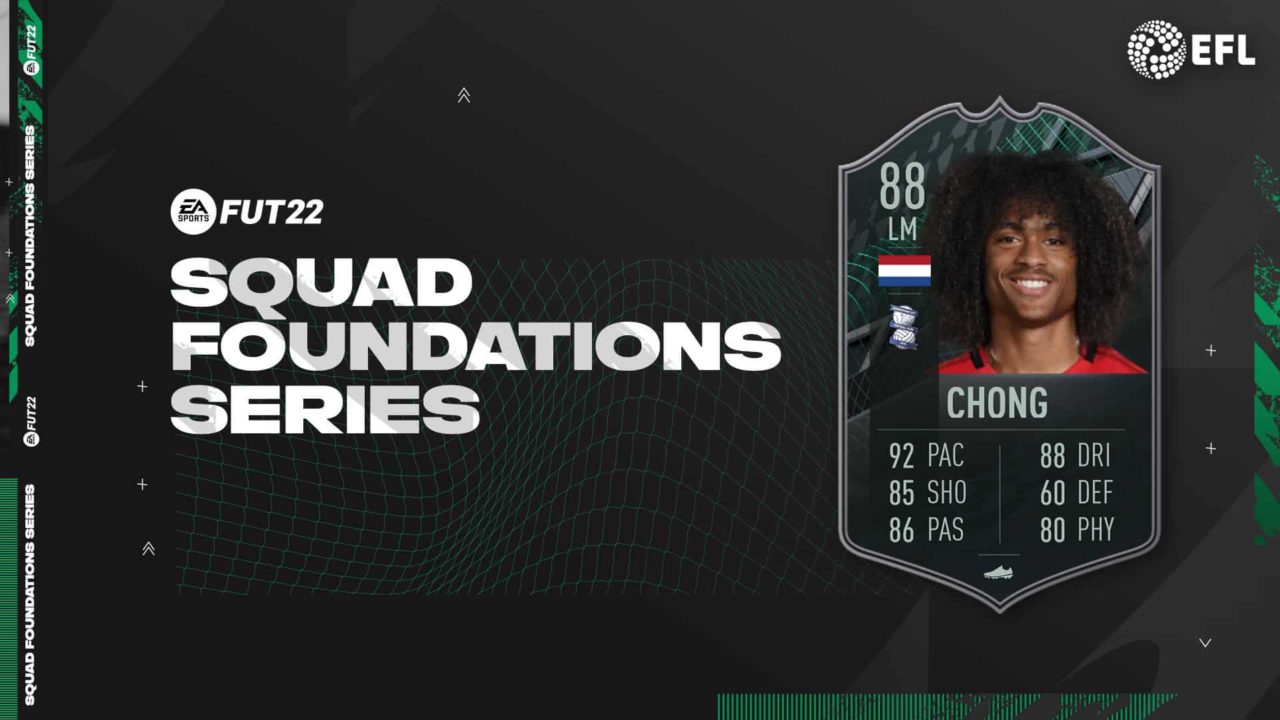 Are you one of the FIFA players right now desperately wanting Tahith Chongs 87 rated card? I think that's pretty much everyone, isn't it? Every United and Birmingham fan that is. EA Sports have added an 87-rated Squad Foundations version of the Birmingham City midfielder on FIFA 22 today, and we're going to tell you how to get him.
Firstly, lets just go through some quick details. Tahith Chong is a Dutch professional footballer who plays as a winger for Birmingham City, on loan from Premier League club Manchester United. He joined the Manchester United Academy aged 16 after a stint through the Feyenoord youth system. During his time at United, he won the Jimmy Murphy Young Player Of The Year award and since then has been closely watched as one of the clubs most promising youngsters. Birmingham City managed to get hold of his contract on loan this season.
Secondly, it is important to note that this is Chongs first special card in FIFA 22 Ultimate Team. As such, hes been granted a the Squad Foundations card which helps players strengthen their teams by filling in key positional gaps across different leagues. He's a part of the third batch of Squad Foundations items.
Here's a quick Youtube video reviewing the new card. Clearly, it's safe to say he doesn't disappoint.
Cheapest FIFA Team To Unlock Chong
This seems like its going to be another classic FIFA card that everyone is going to be using in the coming months. Another Fekir, if you will. There seems to be plenty of these coming onto our screens recently. Personally, I don't know how I'm going to cope.
EA have graciously improved all of Chong's skills, including Shooting (+22), Passing (+21), Dribbling (+21). Not only this, but his defensive attributes have improved too, with  Defending (+16), Physical (+16), and Pace (+13). Additionally, you can use the marksman chemistry style to further booster these stats even more.
Comparatively, well his original 68-rated silver version is just not even in the same competition. However, EA decide that is where his improvements must stop. Thankfully, he still has four-star skill moves and weak foot, otherwise we'd all be in for some troubling games against him. This is why you must follow our advice here to make sure you have him in your FUT too.
Despite this, you're going to have to make sure you have the funds for it. The SBC costs approximately 88,200 FUT coins on PlayStation, 101,1000 on Xbox, and 99,900 on PC. Luckily, you have plenty of time to raise funds, with the chance to get Chong ending on Jan.20.
The requirements for the SBC are as followed:
85-rated squad
Minimum 60 chemistry
One TOTW card
One Netherlands player
Here's the cheapest solution to complete the Squad Foundations Chong SBC right now, according to FUTBIN, a website that specializes in FIFA content:
GK: Péter Gulácsi 85-rated (RB Leipzig)
LB: Raphaël Guerreiro 84-rated (Borussia Dortmund)
CB: Mats Hummels 86-rated (Borussia Dortmund)
CB: Harry Maguire 84-rated (Manchester City)
RB: TOTW César Azpilicueta 85-rated (Chelsea)
CDM: Dušan Tadić 84-rated (Ajax)
CDM: Jorginho 85-rated (Chelsea)
CM: Daniel Parejo 86-rated (Villarreal)
CAM: Georginio Wijnaldum 84-rated (Paris Saint-Germain)
CAM: Hakim Ziyech 84-rated (Chelsea)
ST: Iago Aspas  84-rated (Celta)
Reckon you can do it? Well you better get on with it! If you still haven't got yourself a copy of FIFA yet, make sure to pick yours up here!
Sign up for our newsletter from the website.
Instagram: Go2GamesShop
Twitter: Go2Games
Youtube: Go2Games.com
Facebook: Go2Games.com
Store: Go2Games.com