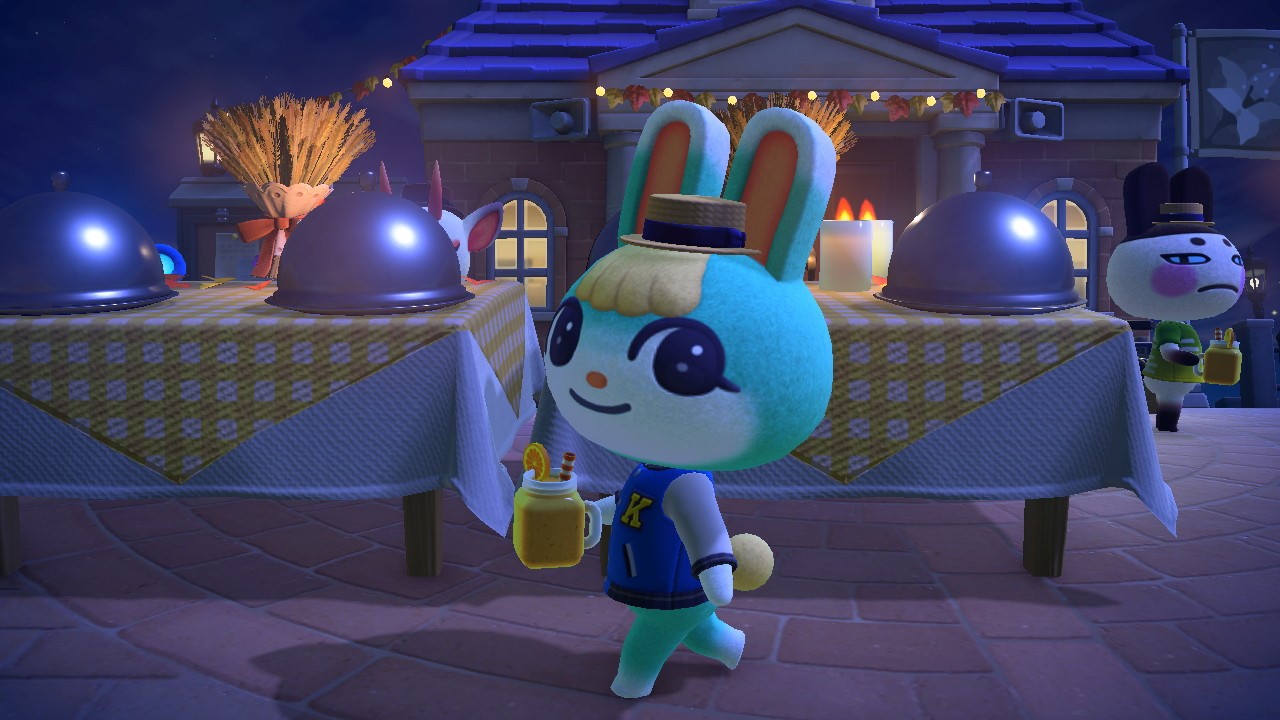 You Don't Need To Be Part of Animal Crossing: New Horizons Turkey Day
To get seasonal DIY Recipes that is…the cooking ones at least.
Nintendo celebrates Thanksgiving in Animal Crossing: New Horizons with 'Turkey Day'. Turkey Day has been present since Animal Crossing: New Leaf and continues to be celebrated in New Horizons, where the player gets to help Franklin the turkey, cook up some delicious meals to put on display for all the other villagers to enjoy.
This also includes gathering fish, clams, pumpkins and potatoes! If you don't have them, you may find it difficult to get the Turkey Day furniture as they are exclusive to the event however, what you can obtain are the cooking DIY recipes. These are obtainable by participating in the Turkey Day event and giving Franklin the secret ingredient to each recipe, in return Franklin will give you a cooking DIY recipe. However, there is another way.
You can also not participate in the Turkey Day event at all. You can wait until it's over and buy the Turkey Day cooking DIY recipes in Nook's Cranny. You'll find them in the shelf to the far right, where you can find tools and such.
What Turkey Day Cooking DIY Recipes do you Get in Animal Crossing New Horizons?
There are four Turkey Day Cooking DIY Recipes, here's the list of what they are.
Clam Chowder
Pumpkin Pie
Gratin
Olive-flounder Meuniere
Turkey Day: Clam Chowder
We still aren't sure if you can use a secret ingredient with these DIY recipes, but it would be interesting to see a scallop used with the Clam Chowder and watch the player comment on the unique taste. To make the Clam Chowder, you'll need 3 manila clams and 1 bag of flour.
To get manila clams, you'll have to dig up spots on the beach that spit water from tiny holes and to obtain flour, you can trade with a friend, otherwise you'll have to get wheat from Leif and grow the wheat yourself, to then craft it into flour.
Turkey Day: Pumpkin Pie

The pumpkin Pie had the secret ingredient of using other colour pumpkins, such as white or green. The flour, sugar and pumpkins can all be can be bought from Leif. Growing your own wheat and sugarcane allow you to craft sugar and flour. The pumpkins can just be picked once their grown, no crafting required.
Turkey Day: Gratin
This dish requires only flour and potato (we suppose this version is vegan). Potatoes can also be bought from Leif, and grown on your island.
Turkey Day: Olive-flounder Meuniere
The olive-flounder may be the most difficult one of them all, this is another common fish that can be caught compared to sea bass. However, the reason why it's the most difficult is because if you don't already have the fish sitting in your storage, you'll have to fish for it. For some odd reason, the moment that an individual needs the most common fish, it doesn't show up and can take a little while.
Olive-flounders can be found in the ocean and appears all year round and can be caught any time of the day.
Flour can be crafted after growing wheat, which can be bought from Leif.
Keep up with all the latest Animal Crossing gaming news, competitions, future discounts and amazing content.
Twitter: @Go2Games
Instagram: @go2gamesshop
Youtube: Go2games.com
Facebook: Go2games.com
You can subscribe to the Go2Games newsletters via the website.