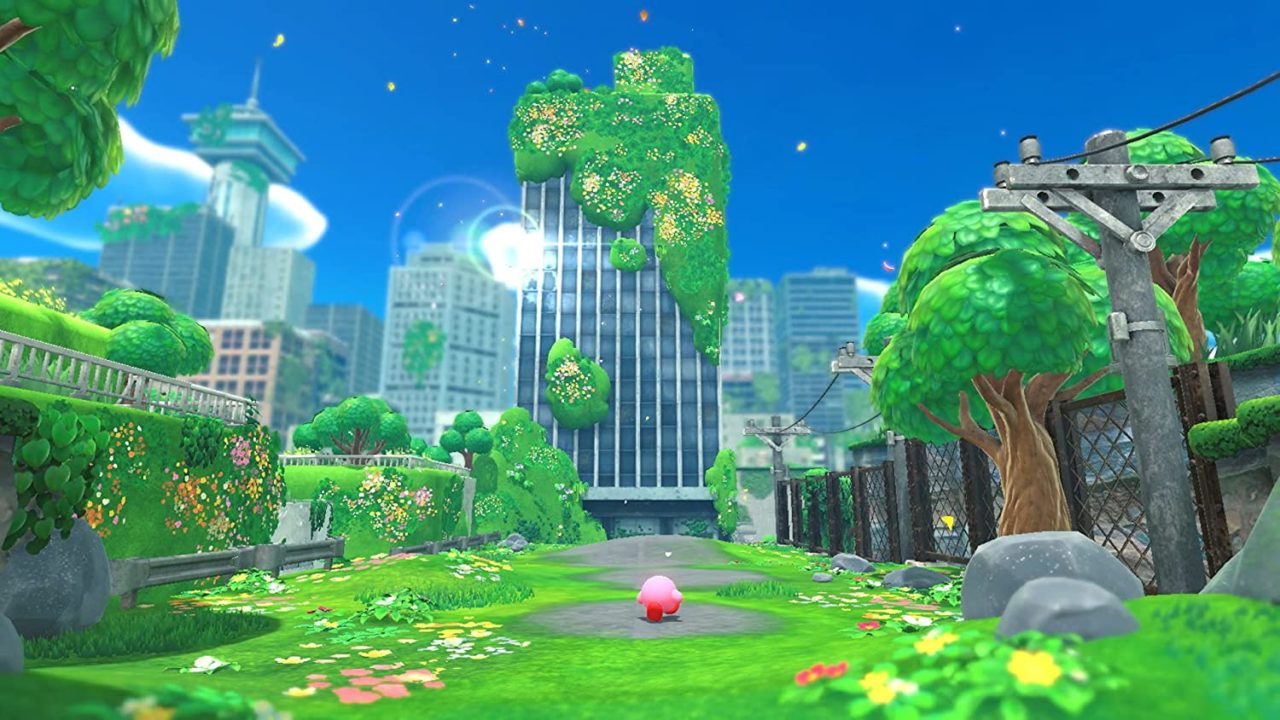 Our favourite pink blob is back with a 3D platforming adventure
Kirby is one of Nintendo's most iconic characters, but for the past few years he's been mostly neglected – and Kirby games have been struggling to compete with Nintendo's other titles. But things are looking up for Kirby and the Forgotten Land.
The game was announced officially at Nintendo's Direct, to much excitement. This entry in the series will be Kirby's first fully-3D platformer. Perhaps it's due to Kirby's positive reception in Smash Bros Ultimate that led Nintendo to produce a series of Kirby fighter games, but the vast majority of fans have been longing to see Kirby returning to his action-platformer roots.
The world depicted in Kirby and the Forgotten Land appears to be a post-apocalyptic version of our own world, overrun with plants and animals. It is a jarring thematic contrast from the typical bright Kirby colours and cheery soundtrack – which only makes me more curious to see how the game will unfold.
Despite how different the setting is to Kirby's home planet, Popstar, it is complete with familiar characters, enemies, and obstacles. Kirby will be kitted out with his iconic (and terrifyingly powerful) copy ability too.
I do have to wonder about the dissonance between the eerie setting and cheerful Kirby-esque tone. What brought this civilisation to rubble? Could Kirby's god-like powers possibly have something to do with it? As cute and squishy as he looks, Kirby's dealt with some of Nintendo's most frightening and straight-up absurd bosses ever.
Whatever the story behind this lost civilisation, I'm expecting it to be just as strange and inexplicable as the series' other elements.
The previous platformer in the Kirby line-up was Kirby Star Allies for the Nintendo Switch in 2018. In this game, Kirby was able to recruit up to three enemies to help him conquer various platform challenges. The game received high praises for its graphics, mechanics, and soundtrack. Additional content added in a later update provided eager players with some extra challenges, and the game became the most successful series entry since Kirby's Dream Land. 
If you're yet to give Kirby Star Allies a try, why not prepare for the release of Kirby and the Forgotten Land by grabbing yourself a copy?
Sign up for our newsletter from the website.
Instagram: Go2GamesShop
Twitter: Go2Games
Youtube: Go2Games.com
Facebook: Go2Games.com
Store: Go2Games.com
Before you go: check out this month's discount codes
CODES EXPIRE ON THE 4TH OCTOBER 2021
Use code BORNE10 – For 10% off Bloodborne- Game of the Year (PS4)
Use code DAYSGONE10 – For 10% off Days Gone (PS4)
Use code ALLSTAR5 – For 5% off Super Mario 3D All-Stars (Nintendo Switch)
Use code POWER10 – For 10% off Ben 10: Power Trip (Xbox One/Xbox Series X)
Redeem at Go2Games